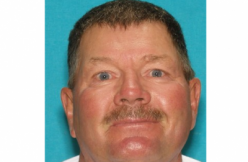 Ladies and gentlemen, this is a tale of bells and balls.
In Utah, 64-year-old Kenneth Allen Beck was arrested after he was allegedly seen on Thursday running naked (except for bells hanging from his genitals) through Spanish Fork Canyon. Seems like more of Christmas time activity, but okay, whatever.
"Deputies spoke to several young witnesses, ages 8 years to 16 years, who reported this man's behavior," the Utah County Sheriff's Office said in a statement released Thursday.
Deputies found him in a nearby parking lot. He explained that he just likes doing what witnesses described to see their reaction.
Well, witnesses called authorities. Thanks for running that experiment.
Beck now faces a Class A misdemeanor charge for Lewdness Involving a Child. That's punishable by a jail sentence of up to one year, and a fine of $2,500.
No, this is not his first lewdness allegation. The sheriff's office says he was convicted for several incidents through October and November 2005, in which he flashed someone while ordering food.
–
Follow Alberto Luperon on Twitter (@Alberto Luperon)
Have a tip we should know? [email protected]