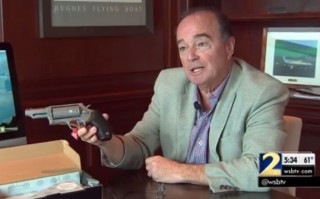 A Georgia business is now requiring all of their staff to obtain a concealed carry license and carry a weapon at work. "Everybody has one of these in their drawer or on their person. I would not want to come into one of my facilities," business owner Lance Toland told WSB-TV in Atlanta. "It's a 5 shot .410, just like a shotgun and you call it hand cannon."
Lance Toland Associates, which is an aviation insurance agency, has several offices around Georgia. The owner says after employees get their license, Toland gives them a gun known as the "governor," which is made by Smith & Wesson. Toland contends the weapon is one of the most effective for self-defense. Toland says his company's gun mandate came as a result of a surge in crime in the Atlanta metro area.
"A lot of my clients are high-fiving when they hear this. They think it's the best things for a company to mandate gun ownership and be responsible," Toland told the television station. He says most of his employees are women and within several weeks of the announcement, everybody had gotten their license.
In 2014, Georgia expanded its gun laws in a bill dubbed the "guns everywhere bill." The law allows licensed gun owners in-state to carry in bars, schools, churches and some government buildings. Georgia is known to have some of the least restrictive gun laws in the country.
Business owner requiring all employees to be armed
[h/t WSB-TV]
[image via screengrab]
Have a tip we should know? [email protected]
Rachel Stockman - President / On Air Host