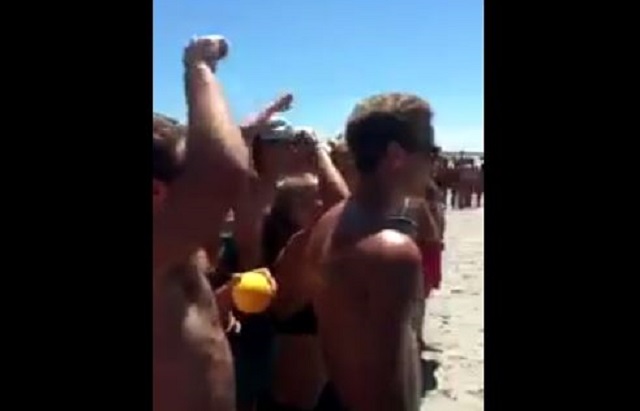 A group of teenagers were arrested Tuesday afternoon after Fourth of July celebrations seemed to have gotten out of hand at a beach in Dennis, Massachusetts. Julianna Murphy, Stephen Cerrone, all 19, Molly Hines, 18, and an unidentified 17-year-old were allegedly engaged in sexual activity in the water, with a crowd of onlookers cheering them on.
The incident was reported to police, and Detective Matthew Turner showed up to see what was going on. Detective Turner found the teens about 100 feet from shore. "Each embraced couple were at a minimum kissing and stumbling about in the waves," he wrote, acknowledging that he couldn't tell exactly what they were doing, according to the Cape Cod Times. He said that around 30 people in the water were cheering for them, while there were about 25 others on the shore, including children.
Turner yelled at the teens, but they didn't respond. A lifeguard went into the water after them, but they kept at it. Finally, a second lifeguard started to approach them, and they stopped and went ashore. The detective said that they smelled of alcohol and were yelling for him to let them go. At this time, the crowd around them had reportedly grown to about 300 people. Video taken at the scene showed onlookers chanting, "USA! USA!" while police tried to handle the situation. Ten more officers showed up to calm things down.
4 people just got dragged out of the water for having sex at #MayflowerBeach. Talk about fireworks @stoolpresidente @FeitsBarstool pic.twitter.com/ZZzAArFJ8n

— OnYoGirlsAgendaRenda (@RendPiece) July 4, 2017
"During the daytime hours at the height of Fourth of July, something like this is kind of rare," Dennis police Lt. Peter Benson said.
Lukas Kaminski, 19, was also arrested, even though he wasn't part of the group. He reportedly kept bothering police while they were trying to handle their business, despite repeated orders to go away. Kaminsky, Murphy, Cerrone, and Hines were all charged with disorderly conduct, and appeared in court on Wednesday. The judge postponed their arraignments until they complete a youth offenders program for people between the ages of 18 and 21.
The District Attorney's office told the local paper that participants in the program have their cases dropped with "no record of the offense" if they complete it successfully.
Meanwhile, the 17-year-old is scheduled to appear in juvenile court on Monday, according to Detective Turner.
[Image via screengrab]
Have a tip we should know? [email protected]