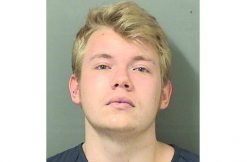 Sheriff's deputies in Palm Beach County, Florida say 19-year-old Nicholas Corbin Hipp texted his mom a simple favor: grab a bunch of, uh, substances from his car trunk. This reportedly happened right after he got in a car wreck.
Local fire rescue arrived at the scene, and were bringing him to a hospital, according to WPTV report. A paramedic reportedly saw him text mom to grab a certain suitcase from the vehicle. Well, this paramedic narc'd. Deputies investigated and found said suitcase with over 142 tables of Alprazolam (an anti-anxiety medication that can lead to physical dependence); 1 gram of marijuana; a glass smoking pipe with mary jane; a digital scale with white residue; and a box of baggies for good measure.
Deputies said he admitted to buying drugs off the street, and said he "does not agree with big pharma." He allegedly told them at first that he'd crashed after swerving to avoid a truck, then later said he possibly feel asleep at the wheel.
In any case, Florida voters recently made medical marijuana legal, while Alprazolam, more commonly known as Xanax, is obtainable with a prescription.
Jail records show Hipp is out on bond for marijuana possession, possession of drug equipment, and possession of drugs valued at $25,000 or more. Jail records obtained by LawNewz.com say that  Hipp faces multiple drug charges after getting into an accident on Monday.
[mugshot via Palm Beach County]
Have a tip we should know? [email protected]