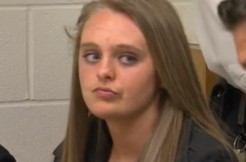 On Friday, the Massachusetts Supreme Judicial Court ruled that Michelle Carter, the teenager who allegedly convinced her boyfriend to commit suicide, can stand trial, CBS Boston reports.
"We conclude that, on the evidence presented to the grand jury, the verbal conduct at issue was sufficient and, because a conviction of involuntary manslaughter is punishable by imprisonment in State prison and inherently involves the infliction of serious bodily harm, the grand jury properly returned an indictment under the youthful offender statute," the court said.
Carter faces one count of involuntary manslaughter for the 2014 death of her boyfriend, Conrad Roy, 18. He was found dead from carbon monoxide poisoning in his pickup truck. Police say she sent him dozens of text messages, telling him to kill himself. She was 17 at the time.
"No. It's probably the best time now because everyone is sleeping," she wrote in one 2014 text reported by South Coast Today. "Just go somewhere in your truck and no one is really out there right now because it's an awkward time. If you don't do it now you're never gonna do it, and you can say you'll do it tomorrow, but you probably won't. Tonight? Love you."
Her attorney, Joseph Cataldo, argued her statements were protected speech under the First Amendment.
–
Follow Alberto Luperon on Twitter (@Alberto Luperon)
Have a tip we should know? [email protected]