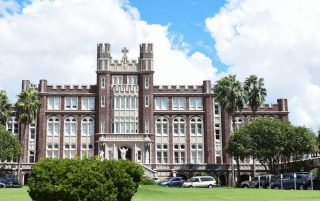 Petitioners are telling universities nationwide to cancel classes for a day because Donald Trump won the presidency.
Here's one Change.org letter written to Loyal University New Orleans:
If you're not paying attention to the election, start. Whether or not you find this to be an important part of your Tuesday night, its important to the majority of people you know. Ask anyone of us who have been updating our Facebook, Twitter and news websites, we are stressed. Loyola students are exhausted and exasperated from this election and no one wants to go to class. The only cure to an election hangover is drinking a cold beer in bed… all day.
As of Thursday afternoon, it gained 341 signatures. Similar petitions have been written to Bryn Mawr College (351 signatures), and Johns Hopkins University (148). None of those schools have implemented the demands.
Many signers seem to be obvious opponents of Trump, who ran on a controversial immigration policy, and whose running mate, Mike Pence, has opposed same-sex marriage.
"I'm signing because as a member of the LGBTQ+ community and a sexual assault survivor I am traumatized by the fact that Donald Trump is our president," wrote one person in the Loyola petition. "Many minorities on our campus such as the black, Latino, Muslim, queer, etc. communities are scared to death right now. Going to class doesn't even seem possible, this is surreal."
The petitions have attracted some ridicule, with several commenters jabbing students. "Precious Snowflake" wrote this under the Loyala petition [we've obviously censored certain parts].
The media told me TRUMP is a big meanie so I'm skerred, crying and just too emotionally fragile to cope when I can't bully and badger others into submission by calling them racist, sexist, t—-yphobes. I need a safe space to hide in for 4-8 years until I get over my chronic butthurt.
Trump's election has caused some teachers to adjust their schedules, though. Over a dozen professors at Columbia University postponed their midterms. A Yale econ professor went as far as to make an upcoming exam optional:
BREAKING: Yale Econ 115 professor makes midterm exam optional after students write in expressing shock about presidential election: pic.twitter.com/JQY8GFsQiV

— Jon Victor (@jon_victor_) November 9, 2016
[Image via AlissalaKerr/Shutterstock]
–
Follow Alberto on Twitter (@Alberto Luperon)
Have a tip we should know? [email protected]