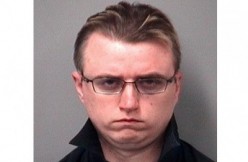 Could you imagine stripping in front of some random guy, then finding out he paid you with a fake $100 bill? That happened to one woman, sheriff's deputies in Saginaw County told WXYZ.
Stephen C. Gidcumb, 32, went to The Déjà Vu club on May 13, deputies said. He sat in the VIP section, and got a lap dance (as one does), then paid his dancer with what seemed to be a Benjamin Franklin. But an employee reportedly thought the bill seemed fake, and contacted authorities, though Gidcumb had already left. He was arrested when he returned to the club that same evening, The Detroit News reports.
"He had some counterfeit $100 bills mixed in with regular $100 bills he was using to pay the one stripper he was getting dances from," Sheriff's Lt. Mike Gomez told The Detroit News. "They figured out it was counterfeit and called the police."
Investigators told WXYZ they later searched Gidcumb's home with his parents' permission—he lives with them—and discovered a whole counterfeit operation in the basement. There allegedly was printing equipment, and thousands of "dollars" in fake $100 bills. They also say they found a concealed weapon in his vehicle, MLive reports.
Gidcumb faces one count of uttering and publishing counterfeit notes, and one count of carrying a concealed weapon. Both are felonies. A preliminary hearing is scheduled for May 31.
–
Follow Alberto Luperon on Twitter (@Alberto Luperon)
Have a tip we should know? [email protected]