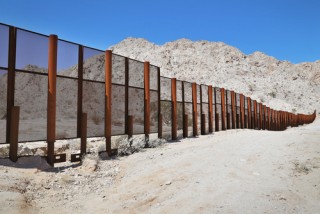 After 24 confrontations with U.S. Border Patrol, Efrain Delgado-Rosales, a Mexican citizen, was finally sentenced to prison in court Friday for reportedly smuggling four non-U.S. citizens into the United States and abandoning them in the rugged terrain of the Otay mountains in San Diego County, California.
The U.S. authorities seem to have had it with Delgado-Rosales. The man, who had never been charged, and only once apprehended, was caught by Border Patrol in October. The October apprehension was his 24th arrest dating back to his first in July 1999, according to officials.
Delgago-Rosales was often caught in the company of undocumented immigrants. In fact, out of his 24 arrests, he was only apprehended alone once. In 2003, he was arrested at a Los Angeles home along with 61 other undocumented immigrants. In his latest scheme, Delgado-Rosales was accompanying four men each of whom had paid $5,000 to be smuggled into the country.
"This case serves as an example of the extreme dangers associated with crossing illegally into the United States. Smuggling activities are run by criminal organizations that have little concern over the welfare of their charges," Laura Duffy, U.S. attorney for the Southern District of California, said in a statement. "Our office will aggressively prosecute those who smuggle illegal aliens into the United States for financial gain, place those in their company in grave danger and needlessly cause deaths."
"The sentence of Delgado-Rosales sends a stern message to those who use dangerous means to smuggle individuals into this country for profit. I would like to acknowledge the U.S. Attorney's Office for their efforts in this case," Chief Border Patrol Agent Richard A. Barlow added.
[h/t CNN]
Have a tip we should know? [email protected]