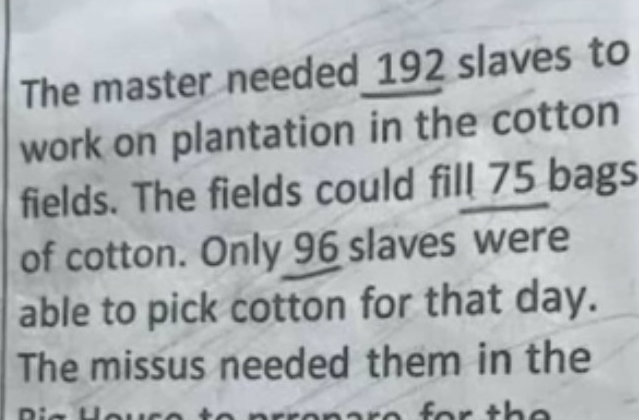 Second-graders in Los Angeles got a slavery-themed math problem, and one mother wants answers.
"It's definitely disturbing using terms like plantation, master," mother Kelly Gray told NBC San Diego in a Saturday report. "My daughter doesn't know what these things mean." She said her 7-year-old got the assignment while attending Windsor Hills Elementary.
Here's the full text:
The master needed 192 slaves to work on plantation in the cotton fields. The fields could fill 75 bags of cotton. Only 96 slaves were able to pick cotton for that day. The missus needed them in the Big House to prrepare [sic] for the Annual Picnic. How many more slaves are needed in the cotton fields?
She also claimed an assignment from Wednesday was about a man who was "mailing himself to freedom." These slavery-themed questions coincided with start of February: Black History Month. She claimed parents at three nearby schools said their children got the same homework.
Her mother, Karole Gray, didn't think those questions were made from ill-will, just lack of thoughtfulness.
"I don't believe anybody were intentionally being malicious, but nobody was being cautious," the grandmother said.
The outlet said the Los Angeles Unified School District claimed they were looking into this.
"The District takes this matter seriously, is investigating it and will take appropriate administrative measures," Superintendent Michelle King said in a statement.
[Screengrab via NBC San Diego]
Have a tip we should know? [email protected]