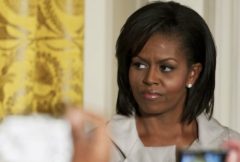 On Monday, Jane Wood Allen Wood is no longer employed. The Georgia educator was fired by the Forsyth Country School District for racist Facebook posts about Michelle Obama: She called the First Lady a gorilla.
Wood's account is no longer visible on the website, but screengrabs of the posts have been circulating on social media.
"This poor Gorilla," she wrote in one entry. "How is she going to function in the real world, by not having all of her luxurious vacations paid for anymore? She needs to focus on getting a total make-over (especially the hair), instead of planning vacations! She is a disgrace to America!"
And another post from August 27: "I admire a gorilla more than I admire her. (Wait, I forgot, she is a gorilla)! If she was a real First Lady, she would not have used and abused her title, by thinking that she is entitled to go on all the trips that she takes every other day. But more of all wasted all of our tax payers money. She is the worst example of a First Lady ever! (Oh sorry, I meant gorilla not First Lady)!"
The school district learned about the posts on Friday, and quickly announced that they put her on a leave of absence. And now:
Attempts to reach Wood have been unsuccessful at this time.
Ape comparison is not unheard of in anti-black racism. It has been a thing for centuries, even to this day. Recently, Mayor Charles Wasko of West York, Pennsylvania got in trouble for comparing both of the Obamas to apes.
[image via K2images and Shutterstock]
–
Follow Alberto Luperon on Twitter (@Alberto Luperon)
Have a tip we should know? [email protected]