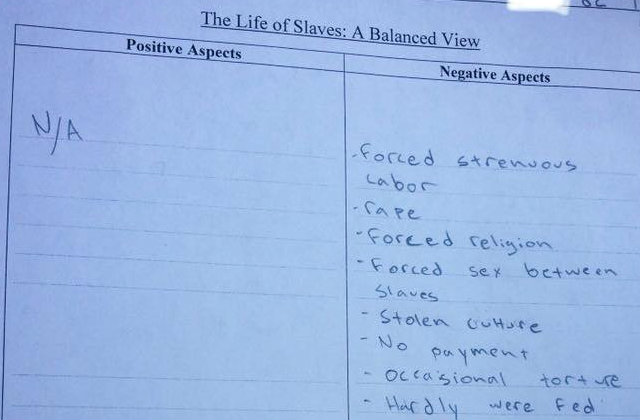 8th graders in San Antonio, Texas, were asked to list the positives and negatives of slavery. The worksheet was titled, "The Life of Slaves: A Balanced View."
Nothing to see here, just your normal, everyday assignment in 2018. This story comes out of the North Campus of Great Hearts Monte Vista Academies, a charter school.
This is absolutely unacceptable. A @GreatHeartsTX charter school in San Antonio asked students to complete a "balanced view" assignment about slavery, requiring them to list the "positive aspects" of slave life. The teacher worked from a @pearson textbook. pic.twitter.com/mzEWty68tB

— Joaquin Castro (@JoaquinCastrotx) April 19, 2018
This even caught the attention of Rep. Joaquin Castro (D-Texas 20th District), who called out Pearson Education via Twitter. The assignment was allegedly based on one of the publisher's textbooks, Prentice Hall Classics: A History of the United States. The company said they had nothing to do with the worksheet.
"The description of slavery in the book was based solely on the author's historical view of the topic and the text has not been published or updated since 2007," they wrote in a statement. "The book is out of print and we are ceasing sales of the book immediately."
They added that they in no way endorse the "point of view represented in the worksheet and strongly condemn the implication that there was any positive aspect to slavery."
Great Hearts also disowned the worksheet, and its apparent endorsement of slavery. They placed the teacher on leave pending an investigation.
"Our review of the situation found this incident to be limited to one teacher at just one campus," Superintendent Aaron Kindel wrote in a statement released Thursday. "It was a clear mistake and we sincerely apologize for the insensitive nature of this offense."
No, you're not feeling déjà vu right now. A similar assignment in Wisconsin caught the wrong kind of attention in January.
[Image via Joaquin Castro]
Have a tip we should know? [email protected]