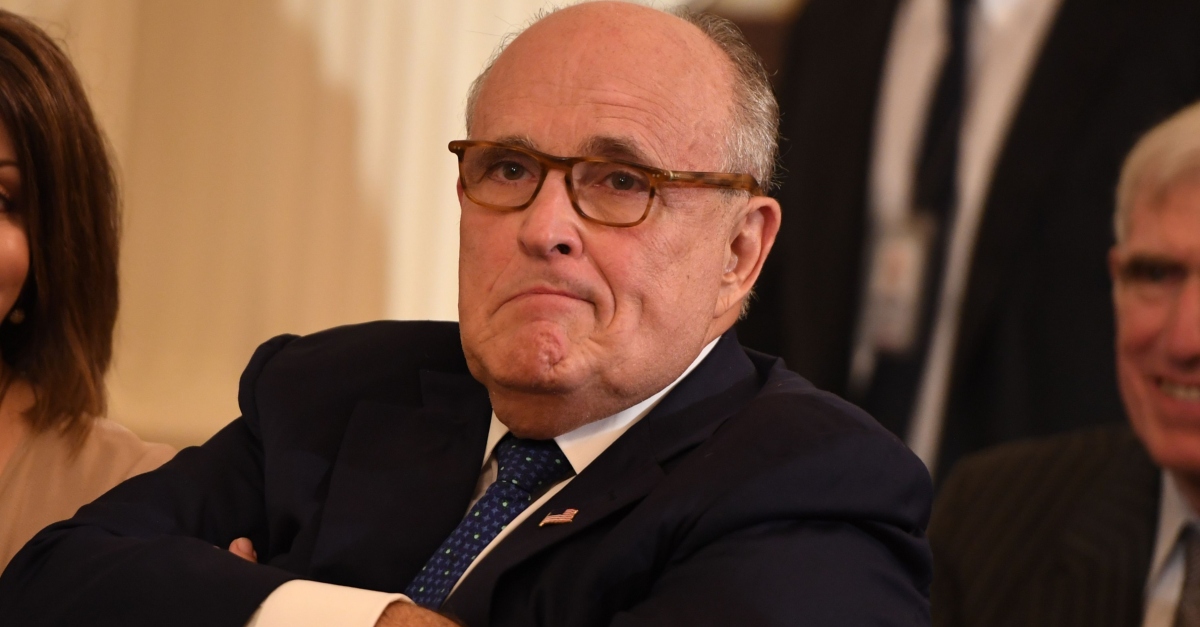 Rudy Giuliani's Twitter typos amuse people for reasons ironic, banal and possibly the opposite of that; as it turns out, those typos can also lead to legal trouble. Sort of.
Most Giuliani aficionados remember late last year when President Donald Trump's informal cybersecurity adviser inadvertently gave birth to a link by mangling together some words and numbers. G-20.in was loosed upon the worldwide web-centered world and proclaimed in loud, grey type:
Donald J. Trump is a traitor to our country.
Giuliani then kvetched about Twitter creating the link — they didn't. An inventive Giuliani fan noticed the dormant uniform resource locator (URL) and used the above bold text as the masthead for a website that very occasionally updates with news of Robert Mueller's special counsel investigation.
As noted, this contretemps was widely perceived as amusing for any number of reasons.
Fast-forward and/or rewind to September 2018.
#REALNEWS: Woodward says no evidence of https://t.co/TZAyo1B7QP does Manafort's team. Mueller can investigate endlessly and he will find no evidence. The only conspiracy,using criminal means, is the campaign to stop and then remove President Trump.

— Rudy Giuliani (@RudyGiuliani) September 16, 2018
Giuliani unintentionally left the door open for someone to create the collusion.so URL. A website was soon attached.
This time around, the link referred back to an already-extant publication: center-right legal analysis blog Lawfare. Specifically, the site's compendium of coverage concerning "The Russia Connection," which is the blog's Friedkin-esque way of referring to Mueller's special counsel investigation.
Giuliani didn't complain about the link that was created, Lawfare's editor-in-chief discovered joy, and this link-generating accident was promptly forgotten.
Until January 8.
On that fateful day, Cambridge-based law firm Stobbs sent a cease and desist letter to the anonymous developer who pinned collusion.so to Lawfare's Russiagate coverage. The letter was sent on behalf of the British online fashion and cosmetics retailer ASOS who recently developed a fashion line called "COLLUSION."
The letter provides some helpful information for those interested:
COLLUSION is ASOS' most recent venture. Launched on 1 October 2018, it was the fourth best-selling brand in its first week out of all 850 brands available on www.asos.com at the time. The launch was covered by leading publications, including Vogue UK, Teen Vogue as well as the Evening Standard. The brand currently boasts 30.6k followers on Instagram and has been described as the "ultimate youth label." The COLLUSION is easily identifiable, characterized by bold colour palettes and prints, gender-fluid designs and animal free garments.
ASOS was apparently none-too-pleased with someone re-directing a link created before their brand was launched because of the name and they accused the anonymous developer of trademark infringement and the common law tort of "passing off" which could be likened to the American-used trademark concept of "goodwill" and perhaps even statutory prohibitions against deceptive representation.
"The Domain Name infringes COLUSION [sic] trade mark registrations by (i) causing notional consumer confusion and association with ASOS' COLLUSION brand [and by] taking unfair advantage of ASOS' reputation in the COLLUSION brand and the COLLUSION trade mark," the demand letter continues.
The Electronic Frontier Foundation (EFF) tidily rubbished ASOS' trademark infringement claim.
An open letter posted Tuesday notes:
If Asos and its lawyers had spent even a few minutes looking into things before sending their letter, they would have seen that they have no straight-faced trademark claim. While they might not have known the full backstory, two red flags should have stopped them before they started. First, our client registered the domain before Asos launched its clothing line. Second, the URL points to a page about the political meaning of collusion—not to anything about clothing. It's very disappointing to see a trademark threat over such an obviously unrelated use of a common word.
After EFF attorney Daniel Nazer posted the above reply, ASOS reached out to apologize, saying "the letter should never have been sent."
[image via SAUL LOEB_AFP_Getty Images]
Have a tip we should know? [email protected]