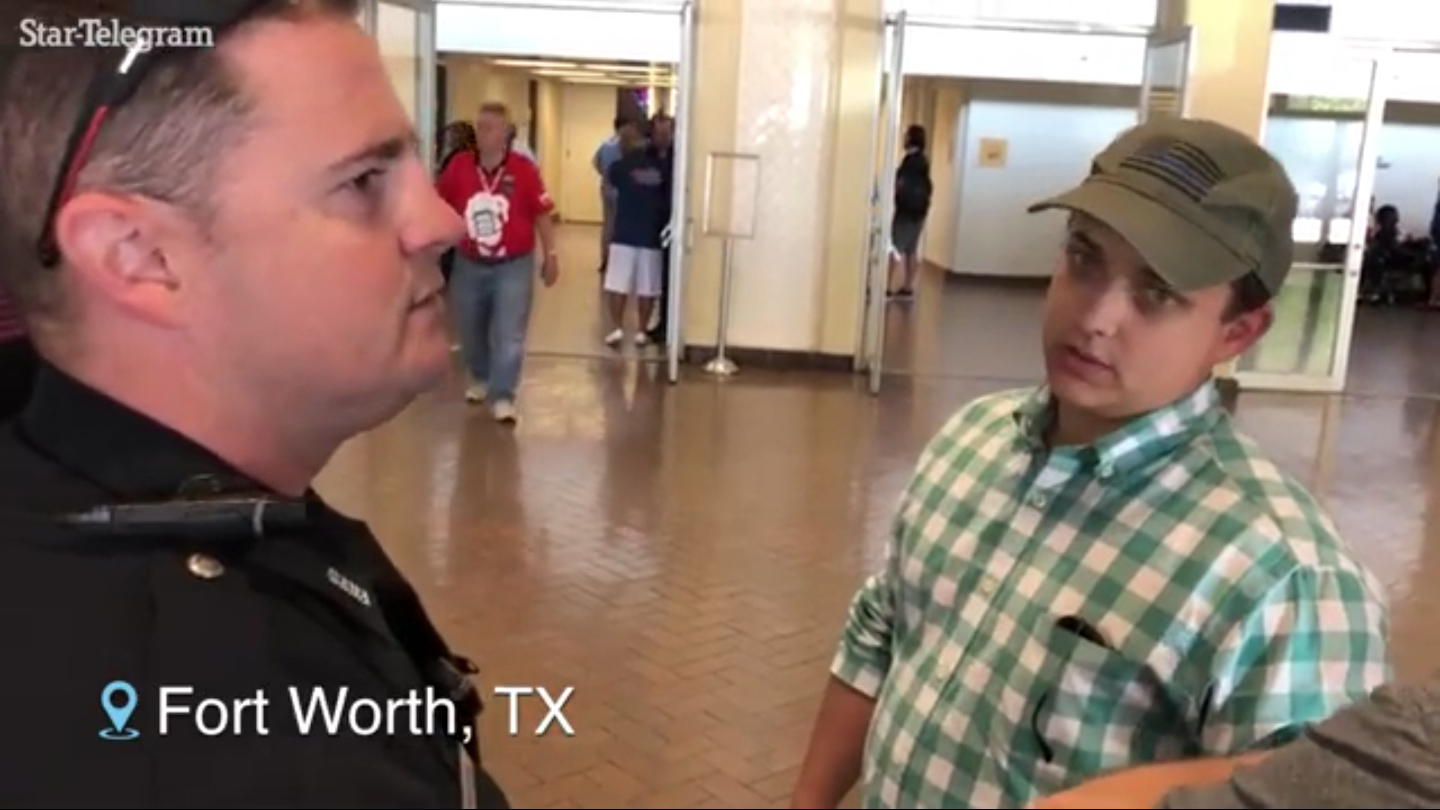 A GOP state representative was escorted out of the Texas Democratic Party's state convention on Friday after apparently brandishing his gun when confronted about an anti-liberal prank he had just pulled.
According to the Fort Worth Star-Telegram, Representative Briscoe Cain and three other men were removed by the Fort Worth Police Department following the incident.
Cain and political consultant Aaron Harris were initially asked to leave after distributing dozens of fake yard signs with satirical messages reading, "This home is a gun-free safe space." In an image Harris later posted to Twitter, some Texas Democrats can be seen posing and smiling with the signs, apparently unaware of the fun being had.
Cain defended the stunt as an exercise in "irony." He said, "It's amazing how many people took one and thanked us. They said they would put it in front of their house. I think it's funny. Nobody should put this in front of their house."
Video captured the moment when Cain appeared to brandish his handgun. After being asked to leave the exhibit hall, Cain and the other right-wing activists returned to a foyer on the north side of the building, believing it to be a public place.
At that point, a delegate asks Cain, "When'd you go gun-free?" To which Cain physically replies by lifting his shirt and showing what looks like a holstered weapon. That interaction was around 4:30 p.m. and the police quickly took over. Cain and his group left the building at around 5:20 p.m.
Texas Democratic Party Convention Director Adam Goodrum said Cain's group had caused "a bit of a disturbance" after delegate Mirian Spencer witnessed Cain allegedly drawing attention to his weapon after the prank had run its course.
In an emailed statement to the Star-Telegram, Fort Worth Police spokesperson Bradley Perez said, "Some protesters were asked to move on and they complied."
Cain is currently serving his first term in the Texas House of Representatives and has been ranked by Rice University political science Professor Mark Jones as the most conservative lawmaker in the Texas House.
[image via screengrab]
Follow Colin Kalmbacher on Twitter: @colinkalmbacher
Have a tip we should know? [email protected]