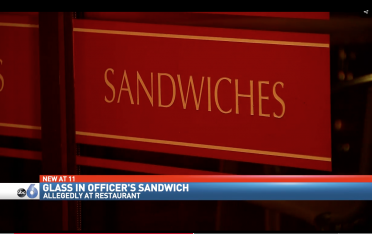 Authorities in Columbus, OH are investigating an incident at a local restaurant that reportedly led to a police officer being hospitalized overnight with injuries to his mouth.
WSYX ABC 6 News reports the officer bit into a sandwich he had ordered from a local restaurant and felt a "a grisly texture" in addition to hearing a "crunching sound."  The officer then felt his mouth bleeding and when he opened the sandwich, investigators say he discovered shards of glass in the sandwich.
WATCH:
The name of the officer and the restaurant were withheld due to the ongoing investigation, according to the report.  However, the restaurant was shutdown while the police and the health department conduct an investigation into the incident.  The report states investigators have yet to determine whether the incident intentional or simply an accident.  They are still in the process of conducting interviews with restaurant employees.
The officer went to the hospital and was held overnight.  Investigators told the news outlet that the officer is expected to make to a full recovery.
Have a tip we should know? [email protected]