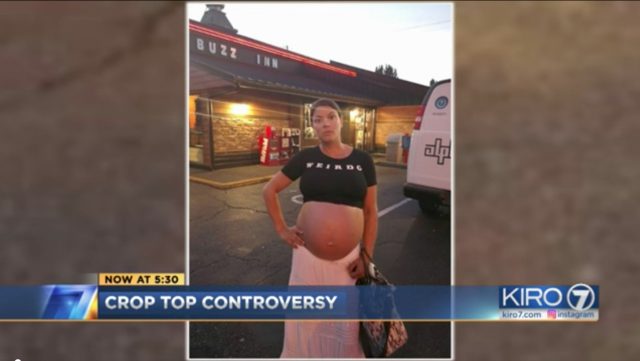 A pregnant woman was denied service at a restaurant allegedly due to her stomach showing from underneath her shirt.
Charisha Gobin was looking forward to a meal at the Buzz Inn Steakhouse in Marysville, Washington with her family over this past weekend. She arrived wearing a black crop top T-shirt and a long white skirt.
But apparently she hadn't covered up enough for staff on duty. Before the seven-and-a-half month pregnant mother-to-be could even sit down, she was stopped. Gobin described the humiliating scene at the steakhouse: "The waitress/bartender stopped us and said, 'I'm sorry, you can't be here in that shirt.' I said, 'Are you being serious with me right now?' And she said, 'Yep, you can't be here,' Just because my belly was bigger and sticking out. But had it been anyone else, I don't think there would've been any problem whatsoever."
The server then told Gobin that she was violating the health code, but declined to elaborate further.
That didn't matter much anyway, because Gobin–who is carrying twins–was so angry that she immediately left. She said, "I was livid. There was no way I was going to stay there."
Speaking to the local CBS affiliate, the server who refused Gobin said the pregnant woman was in violation of the store's "no shoes, no shirt, no service" policy–a common sticking point for many American eateries.
Gobin shared her story and a picture of her outfit on Facebook. It has since garnered thousands of shares, likes and favorable comments, but at the time of publication her post was either deleted or made subject to privacy restrictions.
The restaurant has since apologized for the "misunderstanding" and said they won't "over enforce" their rules in the future.
[image via screengrab/KIRO]
Follow Colin Kalmbacher on Twitter: @colinkalmbacher
Have a tip we should know? [email protected]