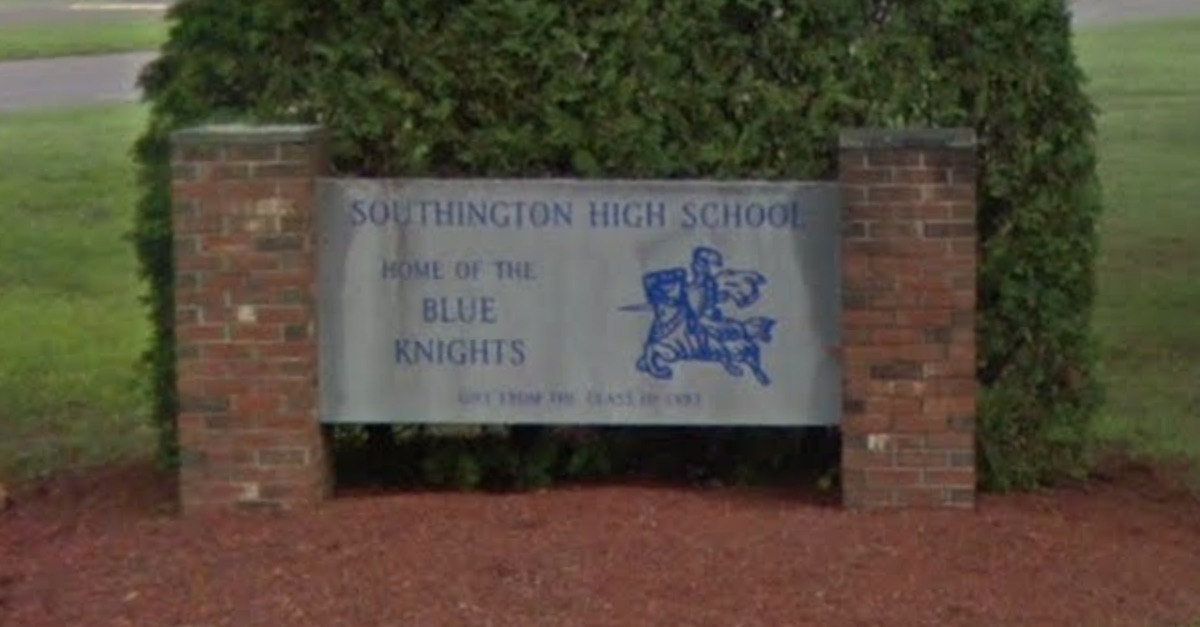 School officials and police are investigating a racist video allegedly made by a student at Southington High School in Southington, Connecticut.
According to the Meriden Record-Journal, Southington Superintendent of Schools Timothy Connellan sent a letter to district parents on Thursday explaining that his office had been made aware of the video through social media and that it was "allegedly posted by a student enrolled in the Southington Public Schools." Connellan also noted that the video contains "language implying the support of violence against people of color."
That's putting it lightly.
In the video, a young white male goes on a lengthy tirade against African-Americans which includes repeat use of the n-word, invocations of violence and lynching. The tirade continues with threats of lynching and cross-burning. At one point, the student says:
I'll fucking hang 12 black men from a tree just this night. You just fucking wait.
Later on, the student shifts gears toward perceived political correctness concerns.
"You guys are fucking white," says to an unidentified audience in an apparent group chat. "You want to get offended by me saying [n-word]? Well, how about I come over there and fucking lynch you like one?"
Southington Police Sergeant Jeffrey Dobratz told the Record-Journal that his department is currently investigating the video in order to determine if the message was "criminal in nature."
Scot X. Esdaile, president of the Connecticut NAACP's state chapter, said he hadn't seen the video but head about its contents.
"That's definitely criminal in nature," Esdaile told the outlet. "It seems that people in leadership positions aren't taking hate crimes seriously."
Connellan also said that the school district's investigation could lead to disciplinary action against the student.
"We will be investigating this situation today to determine if there is any involvement of a student or students from Southington High School" Connellan's letter explained.  "Since this is new information we are at the very beginning of the investigation. Obviously, it will take some time to ascertain the facts in this situation. Any student in the Southington Public School District whose behavior is shown to be seriously disruptive of the educational process will experience disciplinary consequences consistent with Board of Education Policy and Regulation and the applicable State and Federal statutes and regulations."
"We have a pretty good idea of individuals with whom we're dealing," Connellan told the local Fox affiliate–while also noting that the video is part of a national trend toward messages of hate and violence being spread.
"We've seen an uptick in it," he said. "I have to believe that it has an awful lot to do with the tension that's here nationally."
A recent update from the Southington Police Department identified the source of the video:
On December 13, 2018 the Southington Police Department became aware of a social media message with racist content that was made by a juvenile who attends Southington High School student. The statements that were made on this posting were done in a private social media chat. Another person in the conversation then distributed them publicly. At this time this incident remains under investigation. Investigators are conducting interviews with the involved parties and witnesses. This remains an active and ongoing investigation that is being conducted by the Southington Police Department Detective Bureau. As of this time no charges have been filed.
After making its way onto social media, various users across various platforms began sharing the shocking footage as part of a name-and-shame campaign. Twitter users have since identified the man in the video, but LawCrime has declined to run with this identification until it has been confirmed by school or law enforcement officials.
[Image via Google Maps]
Follow Colin Kalmbacher on Twitter: @colinkalmbacher
Have a tip we should know? [email protected]