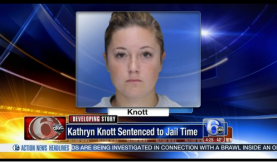 Kathryn Knott, a 25-year-old Pennsylvania woman, is asking a judge for sympathy and reconsideration after Common Pleas Court Judge Roxanne Covington sentenced her to 5-10 months in jail—plus two years of probation—for her role in a 2014 attack on a gay couple in Center City, Philadelphia.
A jury convicted Knott of simple assault and three additional misdemeanor charges in December, after which she was immediately taken into custody. On Wednesday, Knott's lawyer, William Brennan, asked a judge to reconsider the sentence, proposing Knott participate in a PSA, saying, "here she could take the infamy of the arrest and maybe heal some wounds."
Philadelphia Assistant District Attorney, Michael Barry, remarked on Knott's sentence:
Given the fact that she, I think, very specifically did not admit her guilt both at trial and consistently tried to take the focus away from herself and her actions, and most importantly, the very important impact this has had on the community…I thought 5-10 months was the appropriate, I think an incarceration sentence is appropriate.
Judge Covington also sentenced Knott, a Bucks County native, to stay of Philadelphia during her probation, in addition to a $2,000 fine and anger-management classes.
A plea bargain kept two of Knott's co-defendants, Kevin Harrigan and Philip Williams, also of Bucks County, out of jail. They pled guilty last October and accepted probation and community service—including a Philadelphia ban and community service at an LGBT organization.
Knott has 30 days from her Feb. 8 sentencing date to decide whether to appeal her punishment.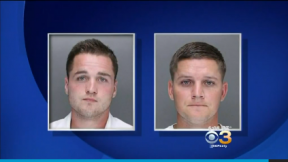 [h/t Philly.com]
[Screengrabs via 6ABC/CBSPhilly]
Have a tip we should know? [email protected]