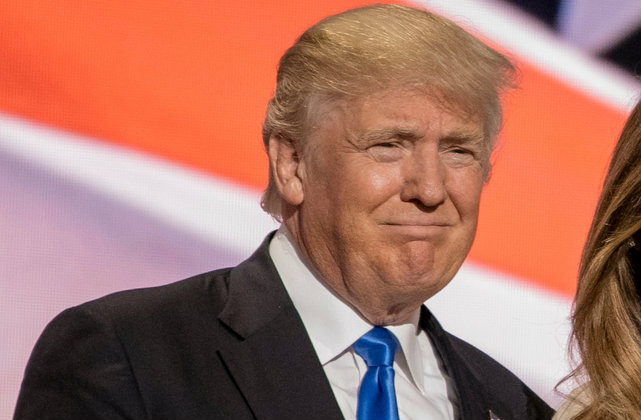 Yesterday, President Donald Trump said transgender people can no longer serve in the U.S. armed forces, but a top general said today that no, officials won't be making any policy changes yet. The White House hadn't even submitted a plan.
"There will be no modifications to the current policy until the President's direction has been received by the Secretary of Defense and the Secretary has issued implementation guidance," Marine General Joseph Dunford, a chairman of the Joint Chiefs of Staff, told military leaders in a letter first reported Thursday by Reuters.
"In the meantime, we will continue to treat all of our personnel with respect," he wrote. "As importantly, given the current fight and the challenges we face, we will all remain focussed on accomplishing our assigned missions."
Trump said Wednesday that transgender service members would no longer be allowed in the U.S. armed services.
After consultation with my Generals and military experts, please be advised that the United States Government will not accept or allow……

— Donald J. Trump (@realDonaldTrump) July 26, 2017
….Transgender individuals to serve in any capacity in the U.S. Military. Our military must be focused on decisive and overwhelming…..

— Donald J. Trump (@realDonaldTrump) July 26, 2017
….victory and cannot be burdened with the tremendous medical costs and disruption that transgender in the military would entail. Thank you

— Donald J. Trump (@realDonaldTrump) July 26, 2017
He didn't cite any specific guidelines, however, or cite detailed rationale behind it. Presumably, such information could come with any plan the White House sends to the DoD.
Trump's decision, if implemented, would reverse an Obama-era policy that lifted the ban on transgender people serving in the armed forces.
Expect this to be a long-term issue, if it ever drops out of the news cycle from time to time. Legal groups have already geared up to sue the administration over this decision. A legal analysis piece yesterday from LawNewz.com editor Colin Kalmbacher suggested the president would likely lose in court, but this will be after fights about still-evolving aspects of the relevant case law.
Meanwhile, people are trying to learn more about the timing of this policy change. A POLITICO report said that the president did it so he could get more leverage in a pending spending bill that would enact numerous campaign promises, including his wall along the Mexican border.
Have a tip we should know? [email protected]