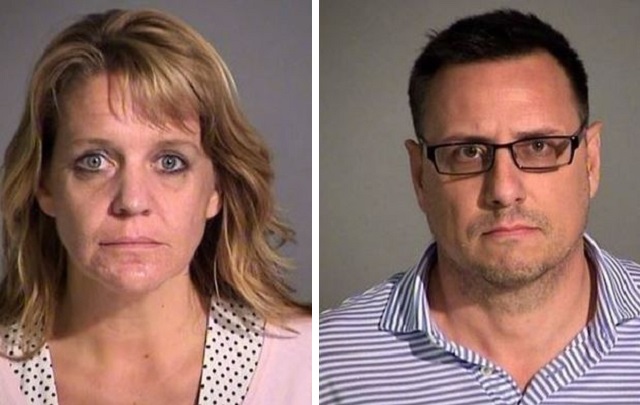 A couple was arrested after bringing their infant child into an Indiana bar and getting drunk, police say. Witnesses told officers they saw Shari Tremba drinking and smoking while breastfeeding the child, as well as offering sex in exchange for beer. The couple, from Alabama, were in town for a business conference, AL.com reported.
The Indianapolis Metropolitan Police Department responded to a report of Tremba's behavior. Sgt. Ty Van Wagner found her standing outside an area of the bar that was roped off, with the baby sleeping in a stroller, he wrote in a report. When Sgt. Van Wagner asked Tremba whose baby it was, she said it was hers, then took a sip from her cup, he said. Tremba's breath smelled like booze, and had to be asked the same questions repeatedly, police said. Another witness later told police that they saw Tremba leave the baby in a stroller that was chained to a pole outside the establishment, while she went inside to get a drink.
A witness reportedly told police that the reason why Tremba was standing outside the cordoned area was that she had been told to stay away from the bar. It was this witness who said that Tremba was offering sex to anyone who would get her another drink. Trosclair was reportedly at the bar with business associates. He eventually walked over to the officers as they were talking to Tremba. Sgt. Van Wagner said Trosclair had "an intoxicated walk" in an affidavit. The officer said that Trosclair was acting belligerent, and he placed him in handcuffs out of fear that he'd try to fight him and his colleagues.
The child was evaluated at a local children's hospital. While she reportedly appeared lethargic, there were no signs of abuse, neglect, or intoxication. She was placed into the custody of the state's Department of Children's Services, as both parents were arrested and charged with public intoxication, as well as neglect of a dependent in a situation that endangers the dependent.
Have a tip we should know? [email protected]