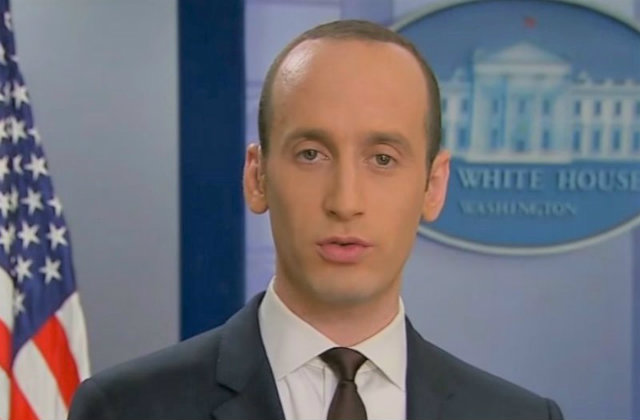 White House aide Stephen Miller, who does not have a law degree, told a federal attorney how his office should defend the president's controversial travel ban on seven Muslim-majority nations, The New York Daily News reports.
The executive order, signed Jan. 27, quickly faced legal challenge from non-citizens who already had visas. This included two detained Iraq men, Haider Sameer Abdulkhaleq and Hameed Khalid Darweesh, and their case landed in a Brooklyn federal court. A federal law enforcement official reportedly told the Daily News that on Jan. 28, Miller called up Robert Capers, the US Attorney for the Eastern District of New York, and told him how he had to defend the policy.
The Eastern District declined to comment on this report when the Daily News reached out to them. We reached out to a White House spokesperson for comment.
The federal attorneys faced a setback. In court on Jan. 28, Assistant U.S. Attorney Susan Riley argued that the hearing was scheduled too soon.
"This has unfolded with such speed, we haven't had an opportunity to address any of the important legal issues," she said.
The judge issued a temporary stay of the order. The policy has also gotten tied up in other federal courts nationwide, so Trump has promised a new EO.
Harry Siegel, the Daily News columnist who wrote the report, wasn't sanguine about all this.
"That's not how it works, since the legal issues the ongoing suits raise won't all just disappear when Trump issues a new order," he wrote. "But it shows how hard it is to distinguish sloppiness from nastiness, clumsiness from willful disruption, in this terribly new, terribly different administration led by a President with no prior governing experience."
His article echoes other reports that claim the Trump administration failed to inform Congress and relevant federal agencies before releasing the EO, leading to disorganization. The president has denied these reports.
"The media is trying to attack our administration because they know we are following through on pledges that we made, and they're not happy about it, for whatever reason," he said at a Thursday press conference. "I turn on the news and I see stories of chaos. And yet it is the exact opposite. The administration is running like a fine-tuned machine."
[Screengrab via Fox News]
Have a tip we should know? [email protected]