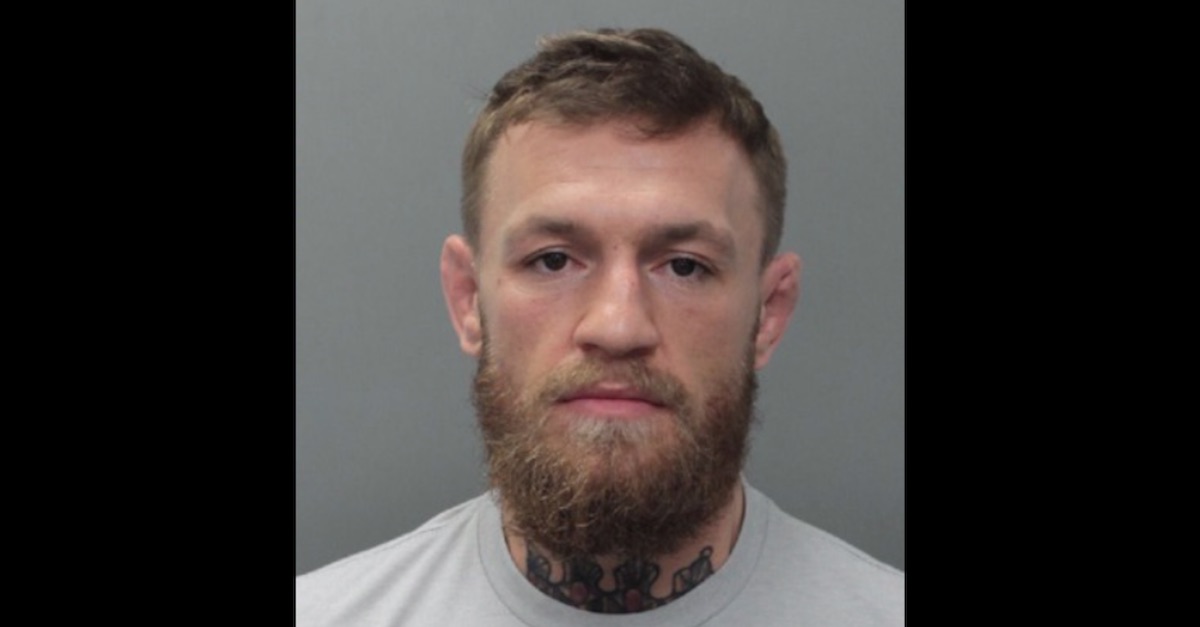 Conor McGregor, an MMA fighter with an arrest history, has been arrested again, this time for allegedly stomping on a male fan's phone in Miami, Florida.
The former UFC champ's arrest occurred on Monday outside of the posh Fountainbleau Hotel. The arrest report contained the following version of events:
The victim and the defendant were exiting the  Fountainbleau Hotel and the victim attempted to take a picture of the defendant with his cell phone. The defendant slapped the victim's phone out of his hand causing it to fall to the floor. The defendant then stomped on the victim's phone several times, damping it. The defendant then picked up the victim's phone and walked away with it, depriving him of it. Victim stated that the phone was valued at $1,000. The defendant was located and arrested.
As a result of the above-described incident, McGregor was booked in Miami-Dade County. He has charged with strong-arm robbery and criminal mischief; his bond has been set at $12,500.
It is not the first time McGregor, an Irish national, has gotten into trouble in with the law in the United States.
Back in April 2018, McGregor was arrested after throwing a fit backstage at a UFC press conference, causing property damage and even injuring at least one other fighter. Video later showed cops perp walking him out of 78th Precinct in Brooklyn, New York.
As seen on video, McGregor threw what appeared to be a barricade at a bus, smashing glass. He was supposedly furious about being stripped of the lightweight belt for inactivity. McGregor pleaded guilty to disorderly conduct and felony charges were dropped; he did not do any jail time.
It's not clear if that will be the case this time around.
McGregor's Miami-based lawyer Samuel Rabin told the Miami-Herald that this was a "minor altercation."
"[He] was involved in a minor altercation involving a cell phone that resulted in a call to law enforcement," Rabin said. "Mr. McGregor appreciates the response of law enforcement and pledges his full cooperation."
Alberto Luperon contributed to this report.
[Image via Miami-Dade County Corrections and Rehabilitation]
Have a tip we should know? [email protected]