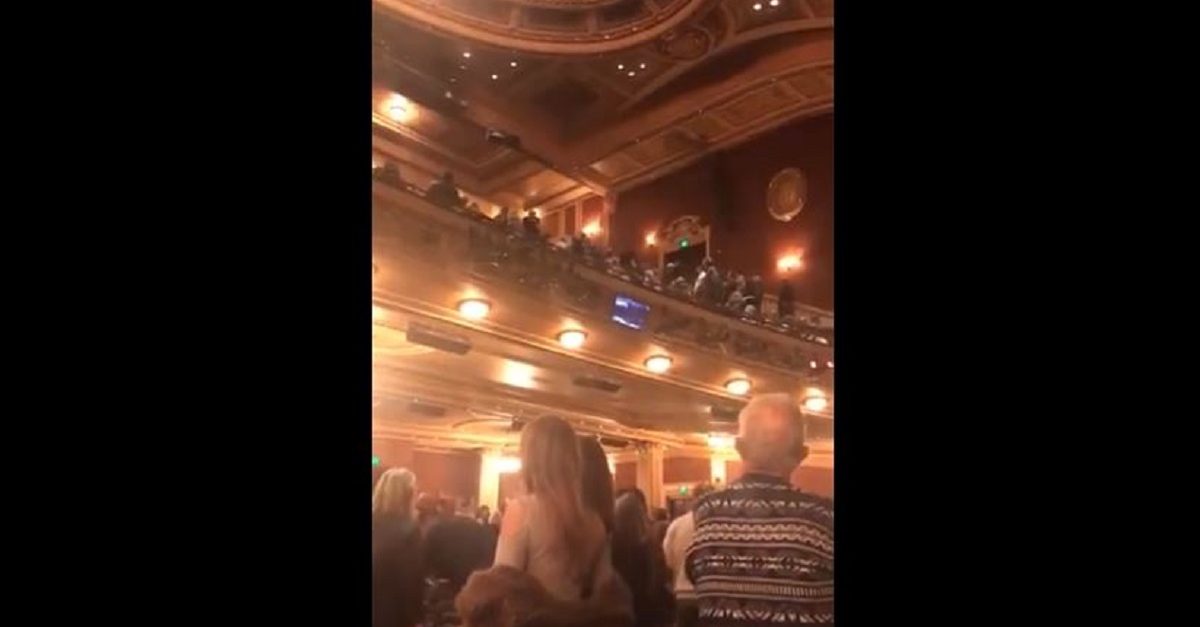 Theatergoers attending a Baltimore production of "Fiddler on the Roof" got a scare on Wednesday, when a man made a Nazi-related exclamation. During the show's intermission, the unidentified individual called out "Heil Hitler, Heil Trump," the Baltimore Sun reported.
"People started running," said Rich Scherr, a Sun contributor who was at the show. "I'll be honest, I was waiting to hear a gunshot. I thought, 'Here we go.'"
The anti-Semitic nature of the exclamation caused alarm during the staging of the show about a Jewish family facing persecution in Russia in 1905, particularly after the recent synagogue shooting in Pittsburgh that claimed 11 lives.
Scherr posted video of the aftermath of the outburst on Twitter. Concerned audience members can be seen looking up to the balcony. "Sick, sad world," he commented.
Sick, sad world. A man stands at intermission of tonight's performance of Fiddler in Baltimore and yells, "Heil Hitler," along with pro-Trump references. pic.twitter.com/slDcPwF7re

— Rich Scherr (@writerguyRich) November 15, 2018
Fortunately, this incident did not turn violent, as the man was escorted out of the theater, and the production went on as planned. Of course, as Scherr said, emotions still ran high.
"My heart was just racing," he said. "I didn't even really pay attention to the second act."
It was only the second night of the show's run at Baltimore's Hippodrome Theater.
There is no indication that the man is facing any charges at this point.
This wasn't even the only Nazi-related incident to take place in the area that day. Earlier, anti-black graffiti and a swastika were found in a restroom at Goucher College, located in nearby Towson, Maryland.
[Image via Rich Scherr Twitter screengrab]
Have a tip we should know? [email protected]