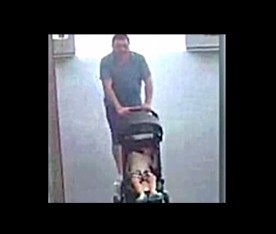 Police are searching for a man who they say molested a 9-year-old boy in the bathroom stall of Target near Houston, Texas. The man pictured above is a person of interest in the case. Police say he was in the area and is now wanted for questioning.  According to KHOU, the boy said the suspect came into the stall while he was in the men's restroom and started touching him inappropriately.
The child's mother was reportedly in the women's restroom at the time. The young boy ran out of the restroom and hid under a water fountain, according to the television station. The story has raised concerns from parents about letting kids use a public bathroom alone.
Police captured surveillance images of a man pushing a stroller. They are looking to speak with him as it relates to the case. The 'person of interest' is wearing glasses, and is described as white or hispanic.
Have a tip we should know? [email protected]
Rachel Stockman - President / On Air Host