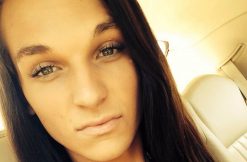 A Mississippi man is going to prison for the murder of his ex-girlfriend. Usually, when it comes to crimes between lovers and exes, the perps' motive has to do with slights, real and perceived. In this case, though, it happened after a friend discovered that she was trans—something he was trying to keep quiet.
Joshua Brandon Vallum, 29, and Mercedes Williamson, 17, had a sexual relationship from "late spring or early summer" of 2014 "until August or September," the Department of Justice said on Wednesday. Why the relationship ended remains unclear, but in any case, he told the feds he didn't want anyone to know he was dating a transgender woman, keeping their relationship and the fact she was trans from his friends, family, and other gang members. That's right: He belonged to the Gulf Coast Chapter of the Almighty Latin Kings and Queens Nation.
So they have this relationship, they break up (he told the feds he "terminated" the relationship), and they have no contact for months. Then a friend discovered Williamson's gender identity.
"Vallum believed he would be in danger if other Latin Kings members discovered that he had engaged in a consensual sexual relationship with a transgender woman," the feds say.
Vallum found Williamson at her Alabama home, and lured her into his car under false pretenses. He drove her to his father's residence in Lucedale, Mississippi, then he murdered her behind the house using a stun gun, pocket knife, and after wrongly believing that she'd died, a hammer.
"After the murder, Vallum attempted to dispose of the murder weapons and other evidence linking him to the crime," the feds say. "He also falsely claimed to law enforcement that he killed Williamson in a panic after discovering Williamson was transgender. In pleading guilty today, Vallum acknowledged that he had previously lied about the circumstances surrounding Williamson's death and that he would not have killed Williamson if she was not transgender."
Vallum faces up to life in prison and a $250,000 fine violating the Matthew Shepard and James Byrd Jr. Hate Crimes Prevention Act. Mississippi already gave him a life sentence in connection to the crime, but the Department of Justice said they were able to bring the case since the state lacked hate crime laws based on gender identity.
[image of Williamson via Facebook]
Have a tip we should know? [email protected]