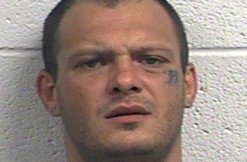 People lie. That's part of life. And they lie in police reports, too. But very rarely do they fib about bear attacks. That's what Tennessee police say Michael C. Savage did, and that's what a grand jury just indicted him for.
Savage, from Campbell County, faces charges for filing a false police report on Sept. 4. According to him, he was just walking by Lonas Young Park. Just walking, sometime between midnight and 5 a.m. Then, gasp, a bear attacked him. He said he fought the animal off, stabbing it multiple times.
The Tennessee Wildlife Resources Agency took that report seriously. Down they put the bear traps. Warnings were sent to residents to watch for any bear activity. No result. Not a single Winnie-the-Pooh was caught, and not a single resident saw anything, according to the TWRA. There was more. Authorities said his wounds were too clean for a bear attack, nor did he get any bite marks.
Savage has had "problems" with police reports before, according to the Knoxville News Sentinel. In 2014, this guy said he was jumped by three men. Too bad one of the men he named in the attack was already at an Arkansas jail, according to police.
Now Savage is in jail, but not for the report. He was arrested last week for separate charges, and faces a Feb. 8 court date. (He has a bit of a reported criminal record, actually. Vandalism…public intoxication…domestic violence…)
[h/t Knoxville News Sentinel]
[mugshot of Savage via Knoxville News Sentinel; Winnie the Pooh via Shutterstock]
–
>> Follow Alberto Luperon on Twitter (@Alberto Luperon)
Have a tip we should know? [email protected]