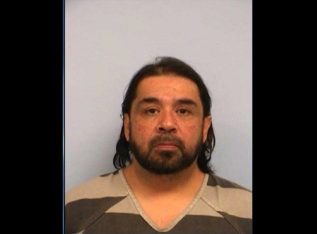 An 48-year-old man apparently had a rough New Year's Eve in Austin, TX, last weekend.
Austin Police provided the arrested affidavit of Florentino Herrera to LawNewz.com on Thursday and it details one of the more bizarre traffic stops you'll likely ever read about.
According to the arrest affidavit, an Austin officer approached Herrera after allegedly observing his vehicle swerving across lanes rapidly and crossing a solid white line that prohibits lane changing.  The cop finally stopped Herrera's vehicle after it was observed rolling a stop sign, the affidavit states.
The cop felt Herrera was intoxicated based on a number of factors he says he observed, including a strong odor of alcohol coming from Herrera's breath.  A field sobriety test was also performed and the cop wrote Herrera failed the tests.
He also admitted to the cop to having "Crown and Cokes" earlier in the evening.
Now here is where is gets truly wild.
After Herrera was placed under arrest and put him in the cop car, the affidavit states the cop observed Harrera "had cocaine hidden under his stomach fat that he attempted to destroy while en route to the jail."
And it gets better . . . or perhaps worse for Herrera.
Police say, The [alleged cocaine destruction] deemed "[t]ampering with evidence was caught on camera" inside the police car.
That is not good.
Herrera's previous record appears to show multiple prior convictions for DWI, but his bond was set at $35,000 and he was charged with a 3rd Degree Felony.  The judge also placed him on curfew where he must be in his home between 6:00 a.m. and 8:00 p.m.
[image via Austin Police Department]
Have a tip we should know? [email protected]