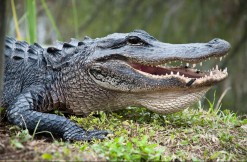 A man went to court Monday for allegedly throwing an alligator through a Wendy's drive-thru window. The setting: nearby Loxahatchee, Florida. (Florida? Again. Really. Someone needs to give that state an intervention.)
Joshua James, 23, tossed the 3-and-half-foot gator after some poor fast-foot worker handed him a drink, according to a report by the Florida Fish and Wildlife Conservation Commission. What a tip.
This all reportedly happened in October, but U.S. Marshalls only arrested him recently.
He admitted to grabbing the gator from the street, according to the FWC. James faces charges of assault with a deadly weapon  and unlawful possession and transportation of an alligator.
The gator, who reportedly didn't harm anybody, was released in a local canal.
[h/t CBS 46]
[image via Shutterstock]
–
>> Follow Alberto Luperon on Twitter (@Alberto Luperon)
Have a tip we should know? [email protected]