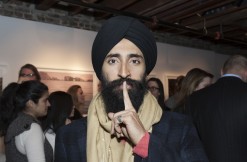 Waris Ahluwalia refuses to go back to America after Mexican authorities told him to remove his turban Monday morning. The 41-year-old Indian American was at a Mexico City airport, planning an Aeromexico flight to New York City, when security guards reportedly stopped him.
"The security person said, 'Now, will you take off your turban?" he told The Washington Post. "I said 'I won't be taking off my turban here.'" During the WP interview, he wasn't sure who the guards work for, but he said Aeromexico employees had a pow-wow, then told him, "'You will not be flying Aeromexico, and you will need to book a flight on another airline.'"
Ahluwalia is a famous a designer and actor (see The Grand Budapest Hotel) and was the first Sikh-American to be featured in a national Gap ad. Up went his post on Instagram, where he has over 19,000 followers of early Tuesday:
"My turban and beard represent my commitment to equality and justice," Ahluawlia said in a statement provided by the Sikh Coalition, a religious advocacy nonprofit. "If security personnel would like to response with bigotry and fear, then I will take another flight that's more inclusive."
The Sikh Coalition mentions that U.S. security agents can pat down a passenger's turban if they get permission first, and a secondary screening in a private area is also possible, according to The Washington Post.
But when Aeromexico conceded the fight, Ahluawlia refused a replacement ticket.
"At this point, I realize that this isn't about my convenience or getting home for lunch today. I realize that if I walk away, somebody else was going to go through this experience again."
He says he won't leave until Aeromexico 1) publically apologizes, and 2) there is more "Sikh awareness training for airport security," and 3) better training for airport security on how to search Sikhs (whose turban is part of their religion) and anyone else with religious head-wear.
A recent report by The New York Daily News indicates he's still in Mexico City.
[h/t The Washington Post]
[image via Shutterstock]
–
>> Follow Alberto Luperon on Twitter (@Alberto Luperon)
Have a tip we should know? [email protected]