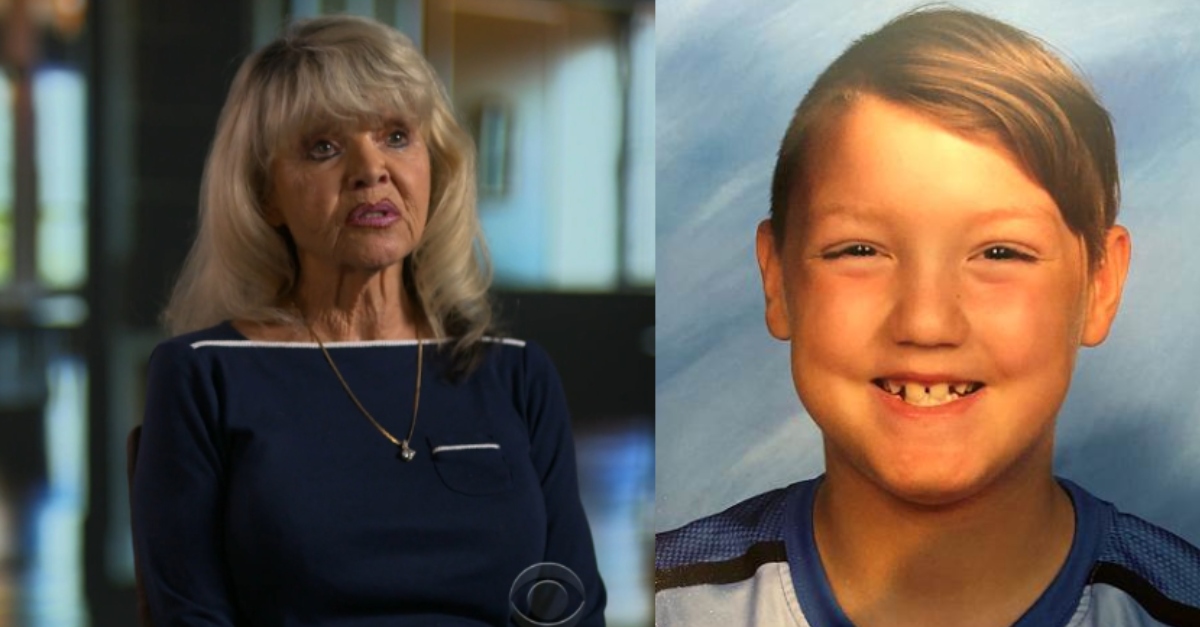 It's hard to find people who'd publicly defend controversial criminal defendant Lori Vallow Daybell, but it's not impossible. Her mother Janis Cox and sister Summer Shiflet spoke to CBS's 48 Hours in a new interview, and one of them made a startling claim: Cox said she spoke to the defendant's missing son Joshua Vallow, 7, on last October 1.
"I talked to him," the grandmother said. "He just takes the phone, you know, and he knows, you know. He knows who we are."
She described this as a brief phone conversation, and provided the outlet a phone bill that she claims proves the call in question occurred.
That's at odds with the official account. Cops in Rexburg, Idaho claim Vallow Daybell bolted out of town instead of helping them find Joshua, and his sister Tylee Ryan, 17.  That was in late November, but officers have said they found no witnesses who have seen Joshua since September 24, 2019. As for Tylee, the last firm proof of her whereabouts was a Sept. 8 family trip to Yellowstone National Park involved the two kids, Lori Vallow Daybell, and uncle Alex Cox. The defendant married new husband Chad Daybell in November amid the kids' disappearance, cops said. Alex Cox had shot and killed Lori's previous husband Charles Vallow on July 11 when the family lived in Arizona. He claimed self-defense, and no charges were pressed at the time, but he ended up passing away in December of unclear causes.
Criticism of the defendant is common online, but Shiflet bitterly objects to that perception.
"I have to see my family slaughtered on the news every day," she said. "This mob mentality of calling for, you know, Lori to be just hung in a public square, basically, is what it feels like."
Cops declined to comment on Janis Cox's story in the 48 Hours report. Bottom line: Two children remain missing, and their mom is saying nothing about it in public, but their maternal aunt and grandmother dismiss any idea that she would have hurt them.
"She's invested her whole life in those children," Cox said. "So we know there's another whole side to this. We don't know what it is. But we know her."
They're not the only relatives who described Vallow Daybell as a loving mom. So did the defendant's elder son Colby Ryan.
"I feel like my mom would die for the kids," he told Fox 10 Phoenix in a Feb. 2020 interview. "So to see this and hear it, and also be questioning why they're not being found, that's where all this comes into a battle between what you think and what you feel."
The big difference is that he's publicly very frustrated with his mother after she snubbed a Idaho court order to turn over the children.
"Like, how do you not produce the kids?" he told Dateline in a report last week. "That's the whole reason you're in jail in the first place right now."
Shiflet and Janis Cox nonetheless continue to stand by the defendant. When asked if she ever asked Lori Vallow Daybell about the whereabouts of the kids, the sister said that the defendant couldn't tell them because Lori is in jail, and everything's recorded.
"So she's not gonna tell us," she said. "She can't discuss anything about the case."
[Screengrab of Cox via CBS; image of Joshua Vallow via National Center for Missing and Exploited Children]
Have a tip we should know? [email protected]