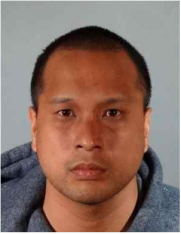 A California man has been charged with calling 9-1-1 some 20 times over the past six months to report fictitious crimes, including murders, all while watching from a distance and laughing as frantic first responders would arrive at the reported locations.
Police charged Michael Sumolang, 27, of Torrance, and a friend, Corey Jackson, 28, of Gardena, with felony conspiracy charges related to at least nine of the calls that affected law enforcement agencies in several jurisdictions, including Gardena, Hermosa Beach, Torrance, Hawthrone and El Segundo.  The California Highway Patrol reported also having received calls from the men, including one that threatened to hurt an officer.
Sumolang was interviewed by a local newspaper late on Tuesday and he denied making the calls.  However, he said that he was abusing alcohol and the anti-anxiety drug Xanax at the time the calls were allegedly made and admitted that it is possible he simply could not remember making the calls.
"I don't remember anything," Sumolang said. "I was in a blackout phase … I was under the influence of some kind of narcotic at the time."
Both men were arrested on March 10 and admitted to making the calls during questioning, according to Gardena police Lt. Russ Temple.
[h/t Daily Breeze; image via Gardena Police Dept.]
Have a tip we should know? [email protected]