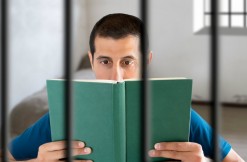 In Alabama, The Athens-Limestone Public Library is threatening to send people to jail. They're not using a new law, either. Athens City ordnance 93-1157 makes it illegal to keep books after the due date. It's going to be more than day behind bars. Violators are looking at 30-day in jail, and a fine of up to $100. It makes sense that'd a library would go after overdue books like this, but you hardly hear about them doing it.
"The taxpayers expect us to protect their investment," Library Director Paul Laurita told The News Courier. About $200,00o worth of materials were overdue as of Wednesday. "We make every effort to be good stewards of public funds."
He said this ordnance has only been enforced "one or twice" before and simply in extreme cases. He insisted little kids wouldn't be targeted. The library has already started programs to help people return overdue books, and even handle late fees.
Athens Police Department Chief Floyd Johnson also had this warning for the outlet: Just because borrowers finally returned the books doesn't mean they're in the clear. They have to verify if legal proceedings have started anyway, and show up to court if necessary. He's seen patrons face "failure to appear" charges because forgot to tell legal authorities about the book return, and no-showed a court appearance.
[image via cunaplus and Shutterstock]
–
Follow Alberto Luperon on Twitter (@Alberto Luperon)
Have a tip we should know? [email protected]