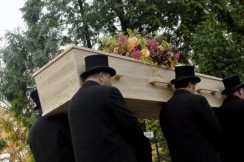 A mortuary is accused of losing a dead body, then using wrong one in a wake, according to the family that's suing them.
Jose C. Perez passed away Feb. 9, 2015. They sent him to Palm Heights Mortuary in San Antonio, Texas a couple of days later, and prepared to send him with nice clothes and jewelry.
Then came the wake: The wrong body was allegedly displayed wearing his clothes and bling. Mortuary employees allegedly admitted that had no idea where Perez was. A 2- to 3-hour search turned him up at another funeral home.
Please highlight this: another funeral home.
In a lawsuit filed last week, Perez's family accuse the mortuary of negligence; failing to make a proper identification and transport of Perez; and for putting his clothes and jewelry on the other body. Cremation suddenly sounds appealing.
The family seeks damages of over $200,000 and up to $1,000,000.
[h/t San Antonio Express-News, image via Shutterstock]
–
>> Follow Alberto Luperon on Twitter (@Alberto Luperon)
Have a tip we should know? [email protected]