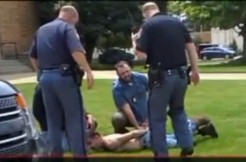 Undercover authorities allegedly beat up a Michigan college student after mistaking him for a burglary suspect, and now he's suing. James King, 23, filed federal lawsuit on Monday.
The incident happened July 18, 2014 in Grand Rapids, the lawsuit states. A police detective and FBI agent were looking for Aaron Davison, who had allegedly broken into a home. That's when they ran into King heading to a summer job. He fit the description of the suspect.
King mistook the investigators for muggers after FBI agent Douglas Brownback allegedly seized his wallet. He neither noticed their badges, nor did they ID themselves as law enforcement officers, the suit claims. He ran. Brownback and Detective Todd Allen tackled him, and allegedly knocked him out with a chokehold, the suit states. King regained consciousness, and bit Allen's arm. According to the lawsuit, the agent said he then hit King in the head "as hard as I could, as fast as I could, and as many times as I could."
The suit also claims that another Grand Rapids police officer, Connie Morris, told two witnesses to delete recordings of the beating from their phones.
King was later charged with several assault charges, but he was later acquitted by a jury. The fallout apparently did more than enough damage to his life, though. His family blew their life savings on court costs, and he struggled with mental and physical injuries as well as lost wages and diminished earning potential because he dropped out of school, the suit claims. He cites that authorities violated the Fourth and Fourteen Amendments in his arrest.
[h/t NY Daily News]
[screengrab via Fox 17]
–
Follow Alberto Luperon on Twitter (@Alberto Luperon)
Have a tip we should know? [email protected]