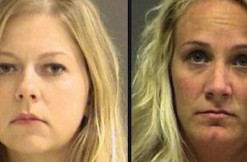 An inmate in Oregon is suing Washington County, alleging two jail workers had "unconsented" and "coercive" sex with him. In a March 3 lawsuit filed in U.S. District Court, the inmate says the county used inappropriate procedures in hiring both women, Jill Curry and Brett Robinson.
Curry, 39, and Robinson, 33, shouldn't have worked in jail in the first place, the lawsuit stated. They weren't trained to "avoid any and all temptations," or to refrain from using their authority to "implicitly or explicitly coerce such male inmates into engaging in sexual relations with them."
The inmate claimed he suffered mentally and physically because of their actions. He also claimed the jail had inadequate surveillance systems to prevent employee misconduct.
Both women are in prison because of the cited incidents. Curry is in the middle of a four year sentence, having plead guilty to 28 charges, including first-degree custodial sexual misconduct, first-degree official misconduct, and identify theft. Robinson pleaded guilty in June to six counts of first-degree custodial sexual misconduct and six counts of first-degree official misconduct.
Attorneys for the women argued the inmate is a liar. Though they don't dispute that the sex happened, they claim it was consensual. He was allegedly the one who initiated it.
Inmates are incapable of giving consent under Oregon law.
The man has a criminal history related to gang activities and sex offenses. He's now in an Oregon prison for attempted second-degree assault, unlawful use of a weapon, and tampering with a witness.
The Washington County Sheriff's Office declined to comment when contacted by The Portland Oregonian. Philip Bransford, a spokesman for the county told The Oregonian that the county has no liability in this case.
[h/t The Oregonian]
[mugshots of Robinson (L) and Curry via TomoNews screengrab]
–
Follow Alberto Luperon on Twitter (@Alberto Luperon)
Have a tip we should know? [email protected]