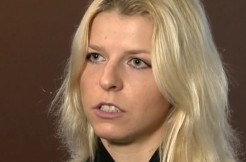 A former patient says a doctor took inappropriate pictures of her while she was being treated for intoxication. Now she's suing him.
"It was the worst experience of my life," Elena Chernyakova told CBS 2. She said Dr. Vinaya Puppala snapped pictures of her while she was getting emergency care in Chicago's Northwestern Memorial Hospital in June 2013. Her lawsuit states several photos of her were posted to social media with such comments as "#bottle #service #gone #bad." In one picture obtained by CBS, she's covering her head in a towel in an apparent attempt to hide.
Chernyakova also claims Puppala's behavior isn't an anomaly. He has allegedly gone to work smelling like booze, presented fake business cards, allegedly treated other patients like "goats," and walked in while patients were changing clothes.
"Northwestern should be upfront about what is going on and especially if they did not do anything wrong," she said.
The hospital got a protective order sealing documents on Dr. Puppala. Chernyakova's attorney says unsealing those documents is a matter of public interest.
"Our first priority is to address the health needs of the patients we are privileged to serve—and to do so within an environment of care that protects and upholds their right to privacy," Northwestern Memorial Hospital said in a statement obtained by CBS 2.
However, they didn't explain why they want the documents sealed. "The allegations detailed in this complaint indicate this person was acting entirely on his own and had no treatment relationship with the plaintiff. Any invasion of privacy at the hands of our trusted health personnel or extended care team of training fellows is unacceptable and not indicative of the Patients' First culture of Northwestern Memorial Hospital, which has zero tolerance for exploitation of private health information, including photography."
Puppla left Northwestern after getting his fellowship certification, and now works in Atlanta. His attorney declined comment to CBS 2 except to say he'd win in court.
[screengrab via CBS 2]
–
Follow Alberto Luperon on Twitter (@Alberto Luperon)
Have a tip we should know? [email protected]