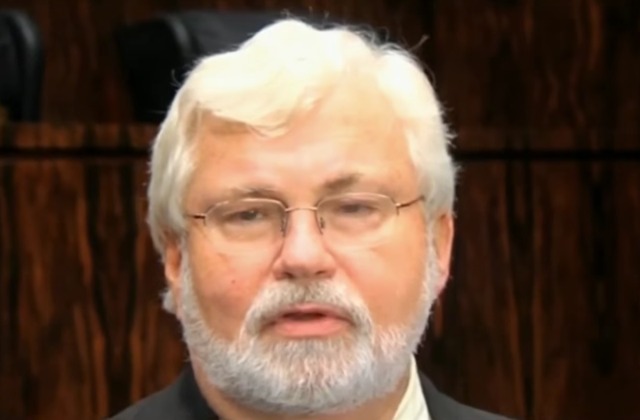 Here's a strange detail emerging from the sexual misconduct claims against embattled Florida GOP lawmaker Sen. Jack Latvala. Since November, he's publicly fielded sexual harassment allegations from six women. One, senate staffer Rachel Perrin Rogers, stepped forward on the record, and an independent investigator dug up a weird sexual misconduct accusation: Latvala allegedly groped her after angrily demanding donuts. The probable cause report was released Tuesday.
Rogers, a legislative aide for Republican Senator Wilton Simpson, told Special Master Ronald V. Swanson about it this year. According to her, fellow staffer Camille Johnson told her that Latvala was "very angry because we did not have donuts, and she asked if I could go back and talk to him."
"I'm very sorry about the donut situation," Rogers claimed to tell him, according to the report. "We'll see what we can do about that."
"Okay," Latvala allegedly said. "Great. I appreciate that. I always appreciate you."
Then, when she turned to walk away, he allegedly groped her. It "was less of a grab than the previous times. But he just briefly squeezed on my love handle section."
Johnson corroborated part of the story. She recalled an instance in which she and Rogers addressed Latvala's donut demands.
"It was just a time when we didn't have donuts," she said. "And he liked donuts, but I was never in charge of buying donuts for the office."
Johnson said she saw Latvala and Rogers in the Member's Lounge, but she "probably walked away… to evade the situation." She didn't claim to witness him making inapproprpriate touching or statements.
Latvala told Swanson no misconduct occurred.
"I find that just impossible to believe that that happened," he said in a sworn statement dated Nov. 29. "I mean, I would remember if I would have done it. I wouldn't have hugged her at the end of a conversation. I wouldn't have hugged her period. I mean, I just, I don't hug Rachel. I haven't ever hugged Rachel."
He said he did not remember the donut-related incident in the Member's Lounge, but said it was possible that something like it may have happened.
POLITICO first reported the allegations by Rogers and five other women on Nov. 3. She is the only one to publicly step forward.
In his report, Swanson found probable cause for her allegations that Latvala harassed her dating back to 2013. This includes claims that he made inappropriate comments about her body, and inappropriately touched her several times. He said there was no probable cause for Rogers' claim that the senator groped a female lobbyist on April 18. That alleged victim denied she'd been touched, the report said.
Swanson recommended that Latlava face sanctions, that Senators and staff get more routine training to address sexual harassment, that there be an internral review of "Senate culture," and that law enforcement review allegations of quid pro quo exchanges ("physical contact or sexual intimacy in exchange for support of legislative initiatives).
The report ended his career Wednesday. At first, Latvala declined to comment specifically on the report. In a Facebook post Tuesday night, he said he'd first undergo a scheduled medical procedure, celebrate Christmas with family, and return Dec. 26 to discuss his political future with his team. That changed Wednesday. He issued his letter of resignation to Senate President Joe Negron, another Republican. Latvala continued to deny allegations, but cited the special master's report and senate colleagues' calls for his resignation as the reasons he is stepping down. His resignation will be effective midnight, next January 5, he said.
"I feel that if I avail myself myself of the constitutional protections that all Americans believe we have, the session will end up accomplishing nothing else for all other Floridians," he wrote.
Update – Dec. 20, 3:06 p.m.: Latvala announced his resignation. The article has been updated to reflect this.
[Screengrab via WFLA]
Have a tip we should know? [email protected]