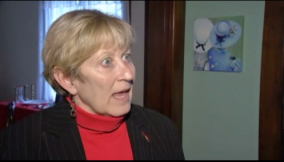 If a Kentucky lawmaker has her way, it may be way more difficult, and humiliating, for men to receive erectile dysfunction (ED) drugs like Viagra, Cialis, Levitra or Avanafil. Rep. Mary Lou Marzian, a Louisville Democrat, has introduced a bill that would require men to meet a number of requirements in order to use ED drugs, including a note from their wives. 
Marzian, attempting to make an important point about government obstacles to women's health, has sponsored a politically satirical bill that seeks to insert the government into the private lives of men. The bill would force men who want to use ED drugs to go through hoops to get them.
"I want to protect these men from themselves," Marzian said sarcastically. "This is about family values," she added.
House Bill 396 would require men in Kentucky to,
make a sworn statement with his hand on a Bible that he will only use a prescription for a drug for erectile dysfunction when having sexual relations with his current spouse.
Marzian's bill comes just a week after a Kentucky's Republican Governor Matt Bevin, signed a bill into law requiring women to consult with a doctor 24 hours before an abortion. Marian was one of three lawmakers to vote against the bill, which passed with 92 "yes" votes in Kentucky's House of Representatives.
Marzian, who is pro-choice, does not believe the government should have a say in the health decisions women make about their own bodies. She remarked,
I started thinking, 'How would this body of men feel if the government was injecting [itself] into their private medical decisions…We are very 'family values' in the Kentucky General Assembly — they are all awash in Christian family values, so that's why I put that part in there that [erectile pills] can only be used in a marital relationship.
In case it wasn't clear, Marzian introduced the bill to make a salient political point about the government's role in women's health. She doesn't expect the bill to get much support.
The humorous state representative intends to introduce new legislation, based on Bevin's bill, that would require prospective gun buyers to receieve counseling from gun violence victims 24 hours prior to a gun purchase.
[h/t TheWashingtonPost]
Have a tip we should know? [email protected]