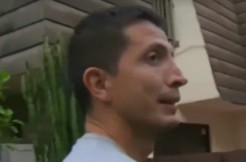 In Broward County, Florida, a judge ruled that a suspected killer can decide who gets custody of his and his alleged victim's 5-year-old son. Enrique Macotela faces a murder charge in the death of Magdalena Weich, his live-in girlfriend.
Welch's brother, Milosz Weich, said the judge's April 22 ruling squashed his family's hope the child would be sent to his mother's home in Germany. His sister was an immigrant from Poland.
"Even that was taken away from us," he told The Sun Sentinel.
The child stayed in foster care after Macotela's November arrest, but will now stay with Macotela's sister.
"I am sad," attorney Trish Gainer Gaddis told The Sun Sentinel. She represented Milosz Weich and his mother in the custody battle. "I am angry, obviously. He's not convicted yet but based on the evidence shared with the public, it appears as if he had something to do with this. Who else would teach [the son] about his mother but her family? It begs the question if he is convicted, what will he be told happened to his mom?"
Gaddis said Florida custody law favors the parents' right to choose their child's guardian unless it wouldn't be in the kid's best interest.
Macotela was arrested after surveillance footage reportedly linked him to the spot where Weich's body was discovered in August. The custody battle lasted longer than expected because he hadn't signed the child's birth certificate, so paternity had to be verified first.
[screengrab via CBS Miami]
–
Follow Alberto Luperon on Twitter (@Alberto Luperon)
Have a tip we should know? [email protected]