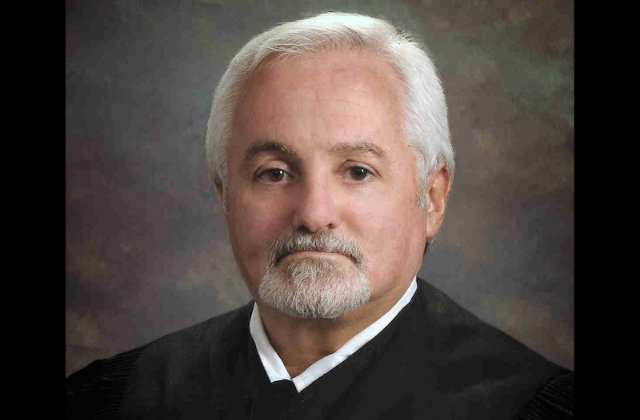 A Mississippi judge stepped down from youth court Wednesday after he separated a mother from her child for 14 months over unpaid court fees. In response to blowback to his handling of the case, Judge John Shirley compared to himself to the crucified Jesus.
All this started in August 2016, according to a press statement from the MacArthur Justice Center at the University of Mississippi School of Law. They said the mother was a passenger in a car with a female driver in Pearl, Mississippi. Her four-month-old child was in a car seat. An officer pulled them over for a minor traffic violation, but "it was discovered that both adults had outstanding warrants for routine misdemeanor offenses." The women got arrested, and the officer told the state Department of Human Services the child was "abandoned," said the statement. Although the child's grandmother got to the scene in a matter of minutes, the officer allegedly made sure that the case got before Shirley at the Pearl Municipal Youth Court. There, custody was awarded to the grandmother. But Shirley also issued this order, according to the statement: The mother couldn't see her baby until she paid the court fees.
The woman reached out to the MacArthur Justice Center last week. In turn, the organization complained to city officials, and alleged that Shirley made similar orders in other cases.
The response: Shirley resigned and the Pearl Municipal Youth Court was closed for good by the board of aldermen (he was the only judge there). The Rankin County Youth Court will now handle its cases.
The judge, who still serves in the Rankin County Justice Court, issued a bitter statement on Wednesday. He said the entire story isn't being told, but he cannot comment specifically because this is a youth court case.
From the statement:
Today a group issued a press release that contained lies. Every day as a judge, I try to remember that people lied about and ultimately crucified Jesus Christ, who was perfect, and since I am an imperfect human being, I can expect some people to do the same to me.

While I am prohibited from discussing a youth court matter, I have always sought to protect children from those who abuse and neglect children and I have at the same time protected the rights of the accused. Many times, knowing a youth court judge cannot comment on a case, abusers/neglecters or their attorneys will state partial facts but leave out the ugly facts about the abuser/neglecter.
He threw all sorts of shade and outright insults at officials. He suggested that some CPS employees make certain recommendations to lighten workloads; and accused the pearl mayor and the Rankin County youth court judge of undermining him for more political power.
"I resigned because I am tired of the politics of Mayor Jake Windham and that other judge and would always wonder when the next back-stabbing would occur," he said.
"That other judge" Thomas Broome told Law Newz that he will not comment on Shirley's statement.
"I will let the record speak for itself," he said. Broom said his court has taken over the Pearl Municipal Youth Court records, which go back to 1975. He said his office is reviewing open or pending matters regarding any sort of "restriction" placed on parents. He said the court would "remedy any issues that may be found." People who've previously gone through the Pearl court can call (601) 824-2545 if they have any concerns. They can also email [email protected], he said. Citing Mississippi law, Broom pointed out that he couldn't comment specifically on youth court cases, including the one that led to Shirley's resignation.
Law Newz also reached out to Windham, and Mississippi CPS for comment.
[Image via Rankin County]
Have a tip we should know? [email protected]