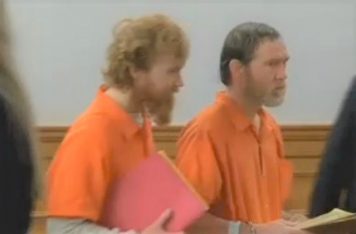 Timothy Ciboro, 53, and son Esten Ciboro, 28, wanted to defend themselves in court using the Bible. Now they can. During a pretrial hearing on Friday, an Ohio judge approved their request to have the book at their defense table when they face a jury in connection with molestation allegations.
"There's a great deal of strategy in Scripture and I use those strategies in everything I do," the younger Ciboro said in court, according to The Toledo Blade. The duo are being tried as co-defendants, and will represent themselves. But they aren't allowed to use Scripture to question witnesses, including the two girls who were allegedly abused.
"It's the court's opinion that while the Bible is very important, it is not a law book in a court of law," Lucas County Common Pleas Judge Linda Jennings told them.
Jury selection begins on Monday.
The duo both face counts of rape, kidnapping, and endangering children. Prosecutors say they both abused the same 13-year-old girl. She was reportedly shackled in a basement for about a year, was forced to use a bucket as a toilet, and only had spoiled food to eat. Timothy Ciboro also faces two other counts of rape for abusing another girl. The children are expected to testify on Tuesday, and will be accompanied to the stand by a comfort dog named Anna, according to WTOL.
[Screengrab via WTOL]
Have a tip we should know? [email protected]