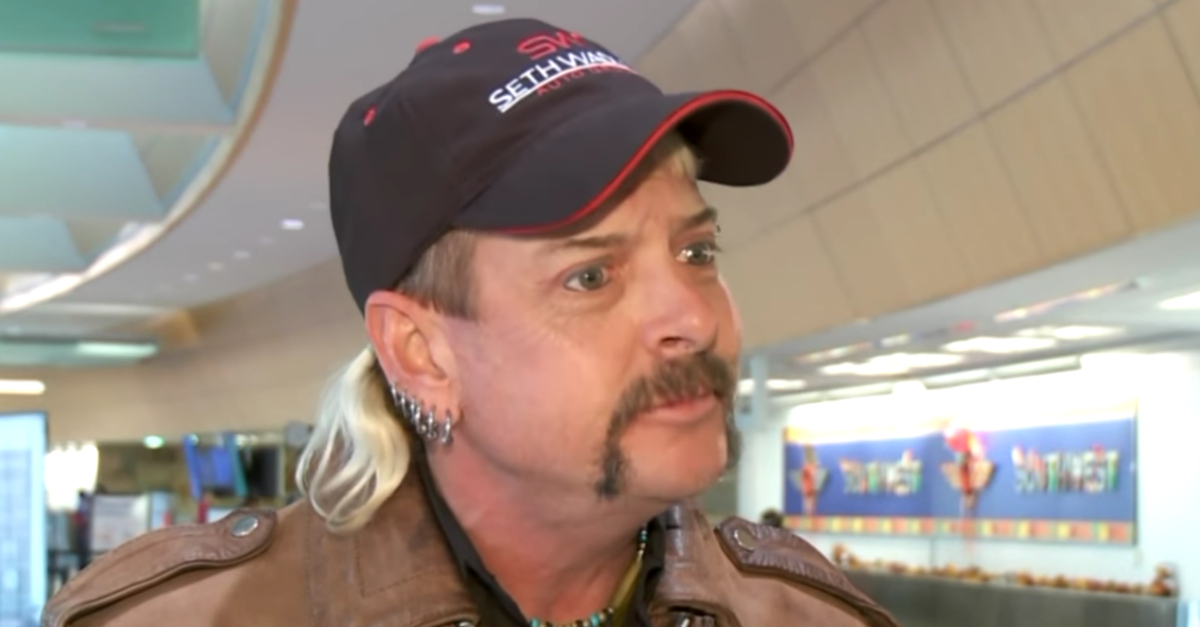 There are more charges against "Joe Exotic," the Oklahoma zookeeper and sometime gubernatorial candidate previously accused of a murder-for-hire plot. A superseding indictment released Wednesday detailed how Joseph Maldonado-Passage allegedly fatally shot five tigers in October 2017 to make space in cages for other big cats, according to a Department of Justice news release. Prosecutors also claim he sold and offered to sell tiger cubs. He allegedly falsified delivery forms and Certificates of Veterinary Inspection to make it seem like he was simply donating or transporting certain tigers, lions, and a baby lemur, but in reality, he was selling them, authorities claim. One animal was a two-week old lion, investigators said.
"The investigation of murder-for-hire and wildlife allegations has required close coordination among law enforcement," said Robert J. Troester from the Western District of Oklahoma's U.S. Attorney's Office. "We will work hard to protect people as well as wildlife and deter these sorts of crimes."
The new charges including violations of the Endangered Species Act, and the Lacey Act, which prohibits falsifying records of interstate wildlife transactions.
Maldonado-Passage's attorneys of record did not immediately respond to a Law&Crime request for comment.
"I put five tigers to sleep because they were in pain," the defendant told KOCO5 in a Friday report, and denied that he did it to make space in his cages. "They were in pain. They had toenails coming out of their ankles. They had no teeth. They had exposed root canals."
This superseding indictment adds charges on top of the original murder-for-hire case against the self-styled "Joe Exotic." Prosecutors said in September that he solicited a person to murder a woman in Florida. He also allegedly asked a second person to find someone to commit the deed in exchange for pay, but instead, this individual introduced him to an undercover FBI agent, according to the indictment.
Authorities only described the target as "Jane Doe," but she stepped forward as Carole Baskin, the CEO of Big Cat Rescue down in Tampa, Florida.
The defendant "had made threats online over a period of years including a video of him shooting in the head a blow up doll dressed to look like Carole and an image hanging her in effigy," the organization wrote in a statement released in September.
They said the feud stems from them opposing his "notorious" roadside zoo, and getting malls to cancel his travelling exhibit. The animal sanctuary said he co-opted their name to trick people into believing they operated his show, and they sued him.
The defendant, who officials claim also went by other names such as Joseph Allen Schreibvogel, lost the trademark infringement lawsuit in 2013, and was ordered to pay $1 million. He told The Oklahoman at the time that he refused to hand over the money.
[Image via KFOR screengrab]
Have a tip we should know? [email protected]