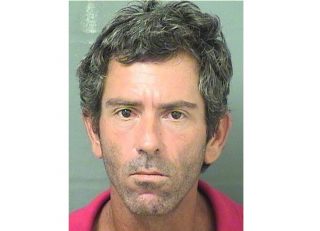 A 45-year-old man who was in jail for allegedly stealing hundreds of dollars worth of hygiene products, was caught doing something rather unhygienic, police say. According to West Palm Beach Police, John Mongiovi said he had to "pleasure himself" when he heard a woman's voice and saw her through a crack in window blinds while he sat in a cell, the Palm Beach Post reported.
After surveillance video allegedly caught Mongiovi and another man steal deodorant and body spray, he was sitting in a jail cell when he noticed the woman. Police say Mongiovi told them he "could not help himself" at that point, and began masturbating.
He is now facing a charge for indecent exposure, on top of the original felony theft charge that he was in jail for in the first place. He's in on $15,000 bond. Let's hope he can control himself for the duration of his stay.
[Image via Palm Beach County Sheriff's Office]
Have a tip we should know? [email protected]