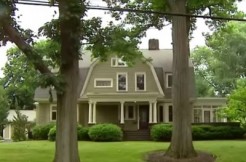 In New Jersey, homeowners are fighting it out in court over a purported stalker. They say he left creepy letters at the property. Thing is, they're not suing the alleged weirdo. They're suing the people who sold them the house. Derek and Maria Broaddus are suing John and Andrea Woods, claiming they should've been told about the guy before the sale, Good Morning America reported on Thursday. The trial is currently taking place.
Authorities haven't caught this person, but he apparently called himself "The Watcher" in a series of 2014 letters.
"My grandfather watched the house in the 1920s and my father watched in the 1960s," one letter stated. "It is now my time. I have been put in charge of watching and waiting for its second coming."
Making cryptic references to "young blood"—the Broaddus family has young children—really cements this guy's standing as a wannabee horror villain.
The Broaddus family originally filed their lawsuit against The Woods in June, 2015 at Union County Superior Court, according to the Washington Post. The family put the house for sale back in March for $1.2 million. It's still on the market as of August 11, 2016.
Westfield 'Watcher' house up for sale again despite eerie threats, lawsuits https://t.co/d598Q5MrZc pic.twitter.com/uZHARp13Er

— NJ.com (@njdotcom) March 28, 2016
John and Andrea Woods countersued in January for defamation, NJ.com reports. They said the Broaddus family made up "The Watcher."
"My clients have gone through having to experience serious allegations that have made their way to the Internet," their attorney Richard Kaplow told NJ.com. "They have been embarrassed and humiliated and subject to public ridicule."
Sunny Hostin, senior legal correspondent for ABC News, said the Broaddus family are working with a handicap.
"I still think that the old homeowners still have the better case because New Jersey is one of those 'buyer beware' states," she said in a Thursday report. "So you have to ask the questions? You have to Google the home. You have to do the groundwork."
–
Follow Alberto Luperon on Twitter (@Alberto Luperon)
Have a tip we should know? [email protected]