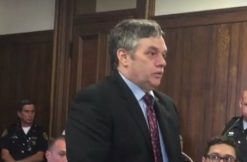 On Thursday, Ohio man Joe Rosebrook was sentenced to life in prison without parole for hiring a hitman, and causing the death of "Daniel Ott." Not surprising. Except the hitman went to the wrong home, and killed the wrong man.
Rosebrook had it out for then-69-year-old Daniel C. Ott, who allegedly betrayed him. While locked up for another crime in 2006, he hired another inmate, Chad South, to commit murder.
So in May 2006, South and two others went to the Burton Township home of Maryanne Ricker and fiancee Daniel Ott—actually, 31-year-old Daniel E. Ott. Prosecutors said South realized his mistake, and tied up his victim. But Ott freed himself, confronted the man, and was fatally shot in the chest.
South was found guilty of murder in May 2016, and was sentenced to 28 years to life in prison. And now his client is facing a stiffer penalty on charges of two counts of aggravated murder, two counts of kidnapping, and two counts of conspiracy.
Rosebrook apologized to Ott's family during the Thursday sentencing hearing, though he continued to "maintain" his innocence. They wouldn't have it.
"You took the life of our son and we live with that every day," said Leroy Ott, Daniel's father, when he volunteered to speak. "I hope you spend the rest of your life in prison and I sure hope you behave yourself. I hope you learned your g-ddamn lesson."
Rosebrook's apology and Leroy's blistering response, obtained by The Geauga County Maple Leaf.

And what about Ott? The one who survived because the hitman was bad at fact-checking? Scene profiled him last year. He was then 78.
He'd relied on that disarming appearance — his victims feeling unthreatened, if they noticed him and felt anything at all — to do what he did so well. Which was to steal cars. A lot of them. Even into his 70s. Ott was one of the most notorious car thiefs in Northeast Ohio history, but you wouldn't know by looking at him. The old man's looks belied a resume of 1,000 stolen cars, by his estimates. Two stints in federal prison (1998, 2004), four in state (1983, 1987, 1993, and 1995), and untold more in local jails across five decades hadn't convinced him to stop either. A geriatric Gone in 60 Seconds come to life in the guise of an unassuming grandpa.
[screengrab of Rosebrook via Geauga County Maple Leaf]
–
Follow Alberto Luperon on Twitter (@Alberto Luperon)
Have a tip we should know? [email protected]