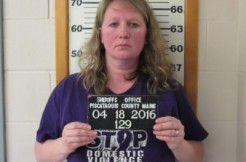 Quick, guys, what's the word that means, "ironic, but not funny"?
In Sangerville, Maine, 38-year-old Emily Wilson was arrested after allegedly shooting a gun during an argument with her husband, The Bangor Daily News reported on Tuesday. She was booked by the Piscataquis County Sheriff's Office—while wearing a shirt that read, in all capital letters, "STOP DOMESTIC VIOLENCE." Bad timing.
The incident happened on April 18, according to a police report obtained by The Smoking Gun.
Piscataquis County District Attorney R. Christopher Almy told The BDN the argument was about the husband's alleged affair. He said Wilson whipped out her .45-caliber handgun, and shot their bed. She also allegedly grabbed her husband's wrist.
She faces one count of domestic violence reckless conduct with a dangerous weapon, and one count of domestic violence assault. The assault charge is just a misdemeanor, but the dangerous weapon charge is punishable by up to five years in prison, and a fine of up to $5,000.
–
Follow Alberto Luperon on Twitter (@Alberto Luperon)
Have a tip we should know? [email protected]