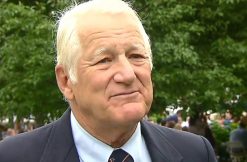 A 71-year-old Connecticut politician has been charged after allegedly grabbing a woman's groin area. Now Republican Christopher von Keyserling, Chairman of the District 8 Representative Town Meeting in Greenwich, faces a misdemeanor count of fourth-degree sexual assault.
It's all because of an incident from Dec. 8. A warrant obtained by The Greenwich Daily Voice says that he and a 57-year-old woman were talking about politics in a town facility.
Turns out, they did not proscribe to the same mentality. The woman reportedly told him "it was a new world politically," and von Keyserling had to educate other politicians.
"I love this new world," he said. "I no longer have to be politically correct." The debate devolved (if it hadn't by then), and he soon reportedly called her a "lazy, bloodsucking union employee." She cursed at him, and went into her office. He followed her in, however, saying he needed to speak to her co-worker, who wasn't in.
The woman left the room after the co-worker came in, and that's when von Keyserling grabbed around her groin, the warrant said. She declined to press charges at first, but later changed her mind, telling police on Dec. 16 that he tried to cover up the incident as some kind of joke, and that she learned he treated other employees in similar fashion.
She told investigators von Keyserling dismissed the incident as a "little pinch."
"It's a sad situation," Attorney Phil Russell told The Greenwich Time.
He says his client is innocent of the charge. Yes, he said there was a "jocular" incident, but it was blown out of proportion.
"There was a playful gesture, in front of witnesses," he said. "It was too trivial to be considered anything of significance. To call it a sexual assault is not based in reality." He told The Greenwich Free Press, "Any contact, if it occurred, it was trivial. And from my limited understanding was never meant to be malicious or sexual. The statute seems to require one or the other."
Von Keyserling is out on $25,000 bond, and faces a Jan. 25 court date.
[Screengrab via von Keyserling]
Have a tip we should know? [email protected]