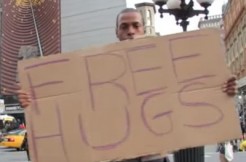 The "free hugs" guy who police say punched a Canadian tourist in Times Square has a bit of a history.
Jermaine Himmelstein is slated to go to court over the Thursday incident, in which he allegedly socked a 22-year-old woman who refused to tip him, amNewYork reports. A law enforcement official told the paper Himmelstein attacked after taking a picture with her, then demanded money. Police said the alleged victim sustained a black eye, facial swelling, cuts, and bruises.
Mr. Free Hugs now faces charges for robbery and fraudulent accosting. But this isn't surprising if past allegations are anything to go on.
While locked up, he was also charged in a separate matter from April 29 in which he allegedly punched a 23-year-old woman on a subway platform. NYPD Chief of Department James O'Neill told amNewYork he'd been arrested multiple times for similar offenses.
Himmelstein is a local character in New York City, standing in pedestrian heavy areas with a sign that stated, "FREE HUGS." Reports place him at Times Square, Washington Square Park, and Union Square. (I used to see this guy all the time while commuting to a former job. Always with a "FREE HUGS" sign.)
"I give out free hugs to make people stay better," he told The New York Times in 2013.
But that profile also showed he could be belligerent, and pushy. He'd been arrested that year for throwing a can of soda at a NYU student's face after she denied him a hug.
"I went and got a can out of the trash and filled it with water and I marched right back to her and threw it right in her face until her face was swollen," he told The Times. "Then I got a cup of ice coffee and I threw it at her."
[screengrab via Normal Bob Smith / YouTube]
–
Follow Alberto Luperon on Twitter (@Alberto Luperon)
Have a tip we should know? [email protected]