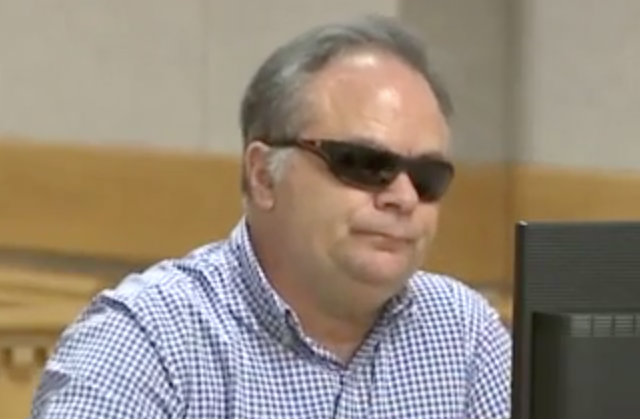 The former chairman of the Colorado GOP was sentenced Friday for falsifying his ex-wife's absentee ballot. Steve Curtis, 57, must serve four years of probation and perform 300 hours of community service for voter fraud and forgery, according to a statement from the Weld County District Attorney.
Kelly Curtis left their home in December 2015 and moved to South Carolina. Months passed, and the general election approached. Prosecutors said the defendant took his ex's absentee ballot in October 2016 and signed it in her name. Kelly Curtis said she discovered the crime when she contacted the county clerk to ask how she could vote, and they told her that she already did it.
Steve Curtis claimed he had a diabetic blackout the night it happened, and couldn't remember doing it. His children testified to support that claim.
Curtis tried to downplay his responsibility by claiming the one vote wouldn't change the outcome of the election, said Weld Deputy District Attorney Tate Costin.
"He committed a selfish and arrogant crime," Costin said. "This was not a product of a diabetic blackout. He did this out of spite and thought he'd get away with this. He not only took away his ex-wife's right to vote in the 2016 election, but this affected the nation. His one fraudulent vote created an insecurity in our system and created discomfort throughout the country. He is educated, successful and intelligent, yet he has never once taken responsibility for what he did and has blamed everything and everyone, including the system. Bottom line, he has absolutely no respect for the law."
Prosecutors said they traced the ballot to the defendant using handwriting analysis and DNA evidence from the envelope.
Curtis served as chairman of the Colorado GOP from 1997 to 1999. He went onto become a radio show host with KLZ-560 AM Conservative Talk Radio.
"Virtually every case of voter fraud I can remember in my lifetime was committed by Democrats," he said in an October 6, 2016 broadcast. "Am I on to something here or do I just not have the facts?"
[Screengrab via KDVR]
Have a tip we should know? [email protected]