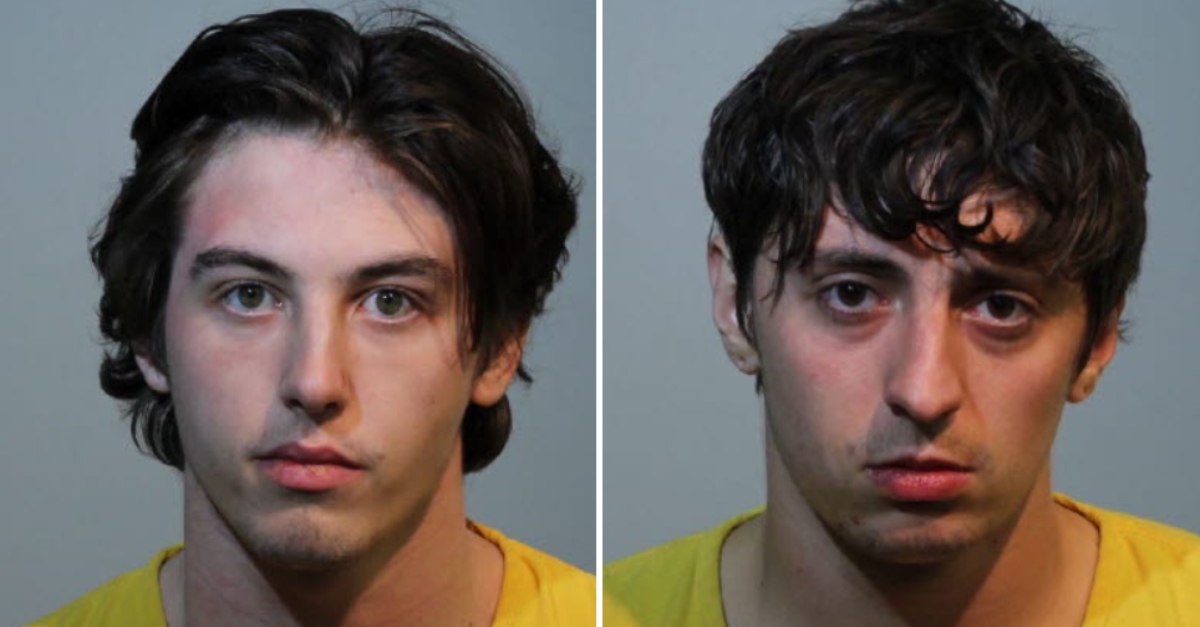 Florida men Ian Reilly McClurg, 20, and Jake Adam Bilotta, 22, allegedly murdered their former roommate because he allegedly stole some of their stuff, say deputies in Seminole County, Florida.
According to the arrest report obtained by Law&Crime, the defendants previously had a falling out with the victim. They kicked him out of the residence after only two weeks because he wasn't paying rent and once left the door unlocked, McClurg allegedly told deputies.
On Monday, however, Bilotta allegedly returned to the home and determined that some of his stuff was gone. This included a PlayStation 4, and what the arrest report described as a "smoking device." The shoes of another roommate, identified as Walter Johnson, was also missing, McClurg allegedly said. According to the report, McClurg told deputies that Bilotta got a screenshot of the victim and another person confirming the theft.
But instead of, you know, calling the cops, Bilotta allegedly texted the former roommate to bait him to coming over so they could go to a party. It was a trap, deputies said. McClurg allegedly admitted that he took a spot near a couch so the victim wouldn't escape, while Bilotta welcomed the man with a knife. The victim was killed. Bilotta and McClurg plotted to get rid of the body by putting it in trash bags and burying it, deputies said.
You might be wondering where Johnson is in all of this. According to the report, he was on a Tinder date and returned home to find blood everywhere and a dead body on the floor. Bilotta was kneeling to search through a backpack by the corpse, Johnson reportedly told deputies. The suspect allegedly said that he had to "give the fucker credit, he put up a good fight."
Johnson claimed to see McClurg staring at him with the knife. He ended up calling 911. Deputies said they found McClurg hiding in the bathroom, and later discovered Bilotta elsewhere.
Seminole County records obtained by Law&Crime show that neither defendant has an attorney at this time. They are scheduled for first appearances in court Wednesday afternoon. Both men are being held without bond.
[Mugshots via Seminole County Jail; McClurg on left, Bilotta on right]
Have a tip we should know? [email protected]