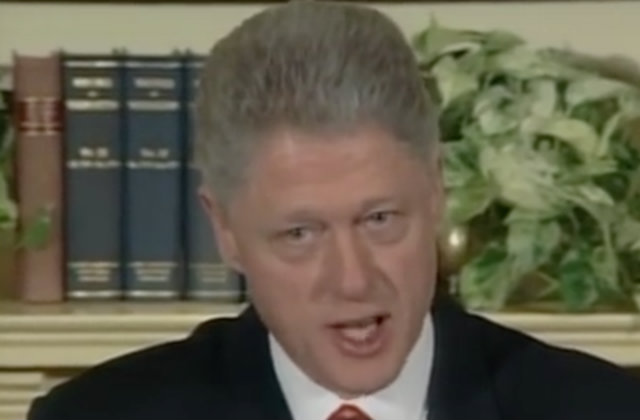 "Witch hunt": That's Donald Trump's favorite term for Special Counsel Robert Mueller's and Congress' investigations into alleged collusion between his campaign and the Russian government during the 2016 election. Hell, this Republican president whipped it out Sunday afternoon.
As the phony Russian Witch Hunt continues, two groups are laughing at this excuse for a lost election taking hold, Democrats and Russians!

— Donald J. Trump (@realDonaldTrump) July 23, 2017
Lest we forget, Bill Clinton's spoxes used the term when addressing Independent Counsel Kenneth Starr's investigation into the Democratic president's relationship with former intern Monica Lewinsky.
Front page of the @nytimes:
** WH says investigator conducting political "witch hunt"
** WH wants leaks investigated
Date: February 9, 1998 pic.twitter.com/gLpMCe8g9u

— Chris Donovan (@chrisdonovan) July 21, 2017
And they even called for an investigation into leaks. Why is that complaint over leaks so familiar? We can't put our finger on it. HMMMMMMMMMMMMMMMMMMMMMMMMMMMMMMM.
Anyway, the House of Representatives impeached Clinton on Dec. 19, 1998 for perjury and obstruction of justice.
So calling investigation a "witch hunt" turns out to be a bipartisan tradition. America!
[Screengrab of Clinton in 1998 denying that he had sexual relations via The Associated Press]
Have a tip we should know? [email protected]